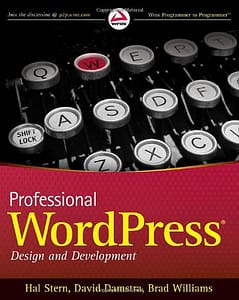 When you start looking for books about WordPress there a quite a few of them. Most of them however cover the subject from a fairly beginners point of view only, not Professional WordPress though. I received this book by Hal Stern, David Damstra en Brad Williams a few weeks back and have been reading it on and off… and I'm impressed.
Professional WordPress isn't particularly geared towards the general WordPress novice like but more-so to the WordPress developer novice, just like Digging Into WordPress. The book is setup to describe basic operation of function and then offering guidance and example demonstrating how to take it apart and reassemble that function to fit your need.
Even though this may sound like Professional WordPress is only for developers, I do believe anyone wanting to take their WordPress installation(s) to a higher level will get a lot out of this book.
The Topics Covered
Where to begin. The Professional WordPress book offers a wide range of topics navigating you through 15 different chapters. Not all will be interesting to all, but anyone looking to broaden their WordPress knowledge will find something interesting in pretty much any chapter.
First Post
Functional Overview
Code Overview
Tour of the Core
The Loop
Data Management
Plugin Development
Theme Development
Content Aggregation
Crafting the User Experience
Scalability, Statistics, Security and Spam
WordPress as a Content Management System
WordPress in the Enterprise
Migrating to WordPress
WordPress Developer Community
As you can see by list of chapters the range of topics is quite extensive. The first six chapters are written for those not yet intimately familiar with the WordPress engine, but as soon as you flip the page and start with the chapters 7 & 8 you are really getting a very solid explanation of the magic behind plugin and theme development. The rest of the chapters handle very specific topics any developer will come across some day.
Solid & Extensive
All in all the chapters with all their sections cover WordPress development very extensively. And when I say extensively I mean 363 pages of very will written, good documented, full of code examples and all written in understandable English. Professional WordPress, in my opinion, is a solid and extensive book that every man and woman seriously interested in developing for this wonderful semantic personal publishing platform called WordPress, is a must have. You can order Professional WordPress through Amazon.