A blog post is made up of different components that make up a unified whole. If the parts are clicking on all cylinders, then expect the blog post to be widely read are shared by users. If not, then the post won't make the same impact.
In order to consistently publish high-quality on your blog, you need to understand how to optimize the different parts of a blog post.
To further help you make these parts even better, below are statistics and concepts that support why and how you should tweak the parts of the post to make them even better. Use them to help you write good blog posts on your website or blog.
Header: 80/20 Rule Still Rules
On average, 8 out of 10 will be reading your blog headline but only 2 out of 10 will click through the title and read the article, according to CopyBlogger.
Because of this very reason, the post title is arguably the most important part of your article. Its responsibility is to encourage users to click through and read your article. This is evident when your post starts appearing on search results or is shared on social media.
In other words, you need to strive to make a great headline that draws attention and drives interest to your blog content in order to break through the 80/20 average.
If you want to learn how to use "curiosity gap headline" tactic in your blog, read this article by FastCoDesign about Upworthy's headlines.
For more headline strategies to employ on your blog posts, read this post by Buffer.
Post Length: Is Longer Really Better?
A lot of studies about blog post length have been conducted by different people and organizations. Torque covers almost all of them that took place since 2012, and there has been a common thread that binds all studies: longer content rules.
The longer the content, the more traffic it receives from search engines, social media, and other channels.
However!
Writing a long blog post for the sake of it being long is not the way to do it. You don't need to write a 5,000-word guide if a 500-word article should suffice.
This is where search intent comes into play.

If you're searching for a recipe, do you want to read the history of the recipe and the blogger's thoughts about the dish? Or do you want to jump straight into the ingredients and the process of preparing the dish?
If you answered "yes" to the second question, this proves the point that correlation is not causation. Having more words in an article is not the cause of ranking on top of Google search or getting more social shares.
How about if you're looking for a personal injury lawyer – do you want to learn what a personal injury lawyer does (informational intent)? Or do you want to consult a lawyer with your injury (commercial intent)? For law firms, knowing the difference between the two intents will determine how many clients you'll be able to generate in your law practice.
By knowing what people want to search for based on the keyword's intent, you'll be able to provide more value to your audience with fewer words.
This reason is why tools like Surfer SEO have been popular as of late. They help you conduct keyword research analyze the search engine results pages (SERPs) of your chosen keyword. Next, they extract vital information from each including word count.
From here, you can use the data to build insights that will help you write a great blog post that your target audience would want to read.
Users Only Read 1/5 of Your Blog Post
A case study by the Nielsen Norman Group reveals that users realistically read 20% of a blog post's content. While the study was conducted in 2008, there's still a good chance that this statistic stands even today.

Therefore, while post length helps you rank and get shared, it doesn't necessarily push your target audience all the way to the end of the post.
So what's the cure to get more people to read all that you've written in your post?
Use bullet points – Bullet points are straight to the point and easier to read — just like this one!
Characters per line – The fewer characters there are in a line of your blog post, the easier it is for readers to process and read the content. This has to do with the font size and the content width. In order to optimize both elements of your blog post, go to Golden Ratio Typography Calculator and find out the best measurements for both to get the optimum characters per line.
Divide posts into subheads – Compartmentalize the information on your post by separating each section using subheadings.
Go visual – Use visually appealing images related to the article to cut through the wall of text and give readers alternative content in your post.
Encourage action – Your blog post must always end with a call to action. This pushes readers to take part with your article, from commenting about what you've just written or getting them to purchase a product from you. Read "The One Crucial Almost Every Other Blog Is Missing" for more information.
A Great Blog Post is Never Static
According to Orbit Media, 70% of bloggers update their old posts. This means they're replacing old information with new data and adding new images and topics for discussion, among others.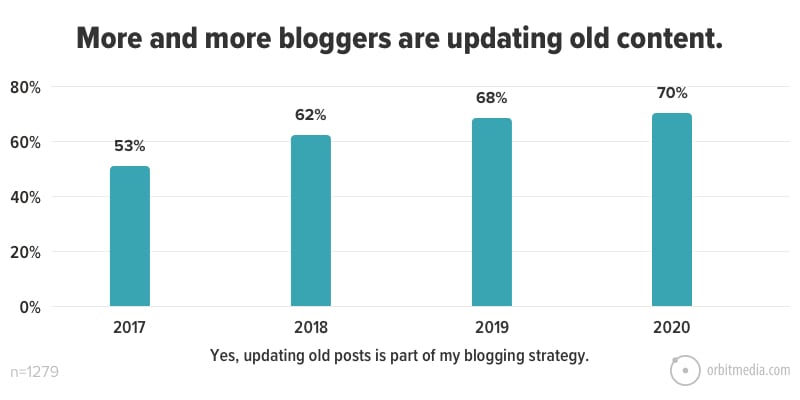 Source: Orbit Media
The reason for updating articles is simple: you want to provide your readers with the best information about the topic of your expertise.
Now, you may have published content that was relevant before but is useless now because the information there no longer applies today. Therefore, you want to keep it updated along with your other old posts so they continue to remain relevant after all these years.
To help you identify which old posts to prioritize, refer to your Google Analytics and see pages that have dropped their traffic over time.
In this age of blogging, you should check your analytics data regularly just like 30% of bloggers in 2020.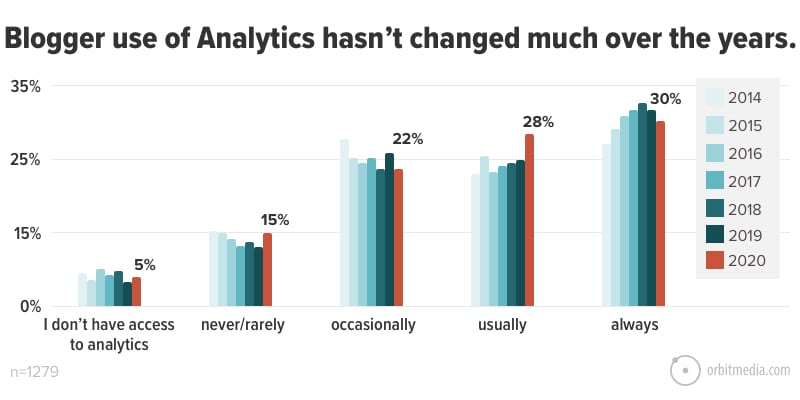 Source: Orbit Media
Conclusion
Writing a blog post that delivers your desired results is made easier if you know the parts they comprise. By using the statistics and following the tips above, you'll be able to turn your blog post ideas that not only capture the reader's attention but also get shared on different online channels.
More on blog statistics:
First published in October 2014; updated August 2021