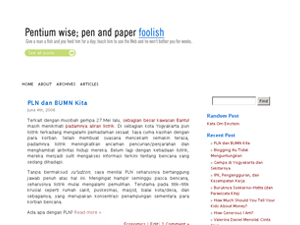 Nofie Iman has released a new WordPress theme called Shantia, it is a nice two column theme that is heavily modified from Kubrick.
He notes:
This is my second WordPress theme named Shantia. A few month ago, I've made Audyasha. Slightly modified version of the default WordPress theme based on the famous Kubrick. I've also posted this at WordPress support forum. Nothing special. Just added some small stuff like:

added top navigation
all-sidebar template
show random post
show smilies on comments textarea
included template for guestbook, link, and archive page
included live preview plugin
fresh, simple, minimalist, fast loading too
It is very slick, and I love the modern minimalist look. I never would have guessed it started out as a Kubrick modification. Check it out at Nofie Iman's site.