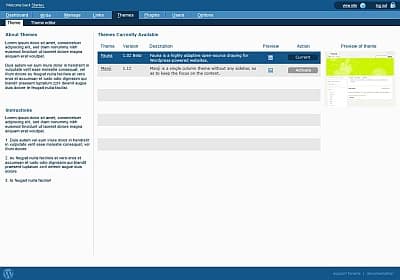 Shuttle is a project that some well known WordPress users took upon themselves to try to help beautify the WordPress administration panel. The admin panel in 1.5 was just plain ugly, and while many things were improved in 2.0, it still isn't perfect, which is why many people love to spruce the look up using Steve Smith's Tiger Admin Plugin.
The crew that took up the task include: Khaled Alfa (of Broken Kode) Michael Heilemann (of Binary Bonsai), Joen Asmussen (of Noscope), Chris J Davis (of Chrisjdavis), Bryan Veloso (of Avalonstar), Joshua Sigar (of alphaoide), Matt Mullenweg (of Photomatt) and Ryan Boren (of Boren).
If you use WordPress, you have most likely heard of atleast one or two of these people if not all of them.
Recently, Khaled let the world know that the mock-ups were done, and released the screenshots to the world. While they do look much nicer than the current WordPress Admin panel, I really don't know if it was a far enough departure from what we have now in WordPress 2.0. I guess what it really comes down to is how fast the community can put it into motion by integrating it with WordPress.
One of the areas that impressed me the most was the change they proposed for the Themes area. While only a small change, I think it will make the world of difference to those that have five or more themes installed in WordPress as the current theme area can look like a mess when you have more than a handful of themes.
To see all the screenshots, head on over to the Shuttle page at BrokenKode.com.