Change can be a good thing. But changes in the Google algorithm is the death of SEO specialists.
For years, they have been finding ways to increase their search rankings. They do this by developing white hat off-page optimization strategies.
The problem with white hat SEO is the time it takes to get a site or blog to appear on top of search results. It can take months, if not years, for a page to rank on the first page for its target keywords.
Because of this, some specialists fall to the dark side and conduct black hat techniques. They get sites atop search results in record time through shady link building tactics.
Google has been rolling out massive algorithm updates as of late. It all started when Google penalized content farms for proliferating thin content in 2011. Another important algorithm update involves disregarding guest blogging as a link building tactic.
These changes ensure that search results provide users with useful content. By weeding out shady practices, they provide a much better user experience.
SEO specialists need to keep up with the changes to remain competitive in this industry. Keeping updated is a difficult thing to do should they continue to tread the black hat SEO waters. There is a chance that their sites or blog will get penalized sooner or later.
Because of this, specialists must not only adapt to the needs of SEO, but also to users. It is no longer about using the right keywords for the right pages. Instead, it is all about providing value to users.
In other words, it is time for SEO to get personal.
In this post-SEO age, specialists need to adapt their practices to the modern approach. I will discuss off-page optimization practices that are a cut above among other strategies.
Below are ways that they can maximize their SEO output.
Skyscraper Technique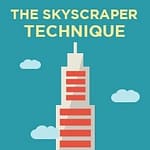 The algorithm changes mean one thing: the forefront of SEO is content. For websites to increase their search rankings, they need to have useful content.
But the most important thing is that it needs to have lots of words.
According to serpIQ, a page with at least 2,000 words has a greater chance for a page to rank for its target keyword.
Content length is not the primary barometer to determine its quality. But having lots of words in a post or article help flesh out the ideas much better.
Long-form content gives your site a better chance to rank and provides value to your readers. Both are strong indicators of a page's SEO value.
Content by itself will never deliver the desired goals from the get go - you need to include research and outreach. Both ensure that your content is well-researched and reaches to your audience.
If you're serious about generating high quality links, you need to be very systematic with how you create and promote your content.

Otherwise you're taking the "cooked spaghetti approach": throwing a bunch of stuff against a wall and hoping something sticks.

Brian Dean, "Link Building Case Study: How I Increased My Search Traffic by 110% in 14 Days" at Backlinko, a digital marketing hub
Developed by Brian Dean from Backlinko, the Skyscraper Technique lets you create linkbait content by applying a blogging outreach method. Below is a general overview of the technique:
Find viral content within your niche using Topsy and Open Site Explorer
Create a much better content compared to the ones listed down
Find sites that linked out to the original viral content using Ahrefs and reach out them
For finding "proven linkable assets," you can also use BuzzSumo. Search for your keyword and see the top pages with the most shares.
Reaching out to the sites one by one can be difficult. To manage the sites you will contact, use either BuzzStream and Ninja Outreach.
For this example, I love BuzzStream because it allows me to paste the list of sites for outreach.
The tool will find the contact details for me so I can focus on sending out the emails.
I can create an email template for this outreach campaign and customize the message for each site.
Throughout the campaign, I can define the relationship stage for each site. The stages give me a better idea on which course of action to take to engage them with my content.
Why is this tactic important in the post-SEO world? Link building is dead. Creating backlinks from different sites is not as sustainable a strategy compared before. There is a chance that a site will shut down or make changes to its linking policy. As a result, all the links you have built may disappear.
Instead of building links, you have to earn them.
The Skyscraper Technique is a great way to earn links from your readers. Because the content is of high quality, there is a chance that people will make an effort to link back to this page.
This way, you create an irresistible piece of content tailored to your readers. To reward you for your efforts, they can link to your page, allowing you to gain a backlink from them!
Relationship Building
The best way to combat Google's algorithm changes is to build relationships with influencers.
Relationship building is not an SEO strategy in the strictest sense. But you can determine the value of each relationship by the kind of action you wish to take.
Before getting here, follow the steps below to make connections with influencers.
Find bloggers within your niche
Comment on their blogs
Promote their posts
Send an email and make the connection!
I have detailed each step in this post I wrote in The Blog Herald.
The steps should help you carve a meaningful relationship with influencers. It lets you create a footprint of goodwill towards their assets.
The endgame is for the influencer to reply back to your comments or thank you for sharing their content.
Do some searching around on Google, or use social media to find the people you need to get noticed by. Once you have "acquired your target" (so to speak), preemptively follow the hell out of them on social media. Don't stalk them. Just hit them up on their fan page, send an occasional tweet, give them a +1.

Rob Lons, "How To Rank In Google: A Step-by-Step Guide To Creating Clever Content" at RankPay, a Pay Per Performance SEO Service
If you feel you have made an impression with them, you can email them with the following messages:
Write a guest post on their site – Google may have flagged this link building tactic. But guest blogging has other better uses aside from linking back to your pages in the content body. By writing a post for the site of influencers, you tap a brand new audience that you can direct to your site. For this to happen, you need to write a post that allows you to share your insights and knowledge related to the site.
Conduct an interview – Ask influencers if they are open to answering a set of questions for you. Publish their answers in your blog and send the a link to the live post. There is a great chance that influencers will share the content on social media or link back to it on his site.
Collaborate – You can ask influencers to work with you on a particular project you have in mind. Lay down the details of the project and explain the benefits of why they should work with you. It will take a good idea to get them on board your project. But by confirming their commitment, you can sustain a working relationship with them. In fact, you can even become an influencer yourself if all goes right!
While the reward is great, following this process may take awhile to finish. Instead, you can join different sites with a built-in audience that is ready to engage with you.
MyBlogU is a community that is willing to share ideas and help each to achieve their online dreams.
The Brainstorm section allows you to get help in fleshing out your ideas for a blog post or a niche site. You can also share your ideas to existing brainstorms and increase your user rank.
Before answering the brainstorms, take note of the user's Creator Response Rate. A high response rate increases the likelihood of the user featuring your answers on their site.
I have had success in brainstorming with other users that they featured my answer with a link back to my site.
The Interview section lets you answer questions from different users for a blog post. If the users like your answers, they may publish them in the post with a link back to your site.
Each interview requires you to provide longer, in-depth answers. I have not tried sending answers from this section yet for this reason. But I am sure that the effort will be worth it once they publish the answers.
Another site for building relationships is Triberr. It lets you build "Tribes." From here, you can promote your content and interact with like-minded people.
The great thing in Triberr is the Bonfire section. You can find the right tribes and find guest blogging opportunities. The latter lets you increase your online reach by writing for other sites.
Why is this tactic important in the post-SEO world? Building sustainable relationships lets you combat against the algorithm changes made by Google. Forming long-lasting bonds with influencers lets you earn longer-lasting links from them.
How do both strategies play a role in a more personal SEO
Both strategies illustrated above help you make an impact with your audience. They allow you to earn backlinks by way of your readers and connections. The content you create and the relationships you have forged provides value to them. As a result, there is a greater chance for them to link back to your site.
Through both strategies, SEO becomes more personal. By leaving a mark with readers and influencers, you approach your online strategy with a personal touch. Personalizing your SEO allows people to trust you. By developing that trust, you gain their approval by way of a backlink.
More on site optimization: