As much as we love to report about the state of 'other than WordPress blog software' as well here at BloggingPro, we can not help but give the announcement of the newly introduced Movable Type 5 a WordPress spin. And how could we not; the announcement will be completely overshadowed by the new dashboard design of MT 5.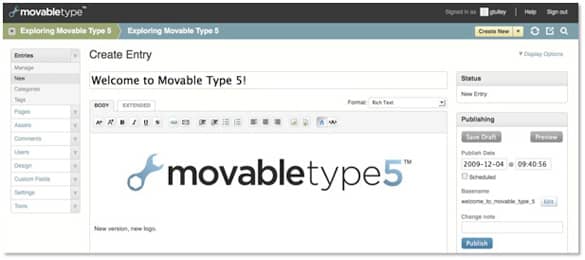 Seriously, Six Apart? Is it April Fools' Day today?
There is just too much resemblance to even bother putting both next to each other and point out all the similarities. Whiskey Tango Foxtrot!
To say that I am flabbergasted would be an understatement. I can only hope that this is a linkbait and buzz strategy to create some momentum and Six Apart already has a new dashboard design for a soon to be announced MT 5.1. If not, I guess… 'GPL FTW!' ?
For those who are interested in the new features:
A new user dashboard for both the website and blogs. This makes it easy for authors, editors, designers and other publishers to easily navigate between the two.
A new theme mechanism that makes it easy to apply a new theme across a website and blogs with a single click that proliferates changes throughout the published site.
Enhanced content management features that include revision history and new custom fields. There are five new object types for custom fields: website, blog, comment, template and asset.
The introduction of content revision history is also an interesting one. I understand that most popular features of all systems find their way into other systems, no matter if blog software platform, operating system or cars, this is a normal process but MT5 has just a little too many similarities at first sight. The possible argument to ease the learning curve for switchers coming from WordPress is a valid one but would also mean that Movable Type admits having lost the battle with WordPress.
For those who can not wait to play with MT5, read all about MT 5 here and download the open source release here. More news about the features of MT 5 on Monday by our in-house specialist Billy Mabray in his Movable Type Monday column.