Take a break from blogging without guilt…
Let's face it: We bloggers enjoy keeping up with our websites pretty darn often. In fact, many are in the habit of publishing every single day of the week.
But what happens when you need that inevitable break?
Before I continue, I must say that the word "break" doesn't necessarily mean "getting away from your blog completely" in this context. I will occasionally mention ways to enjoy some time away by means of "lessening" the work required to blog.
Let's look at some of these tips and ensure you don't lose steam and, most importantly, your audience.
Schedule Your Posts
Let's start with the most obvious tip, as not every blogger is necessarily familiar with basic WordPress/CMS features.
Depending on the extent of your break, start writing a series of blog posts in advance, then schedule them throughout the week/month.
How to:
Start a new post, then click "Edit" from the Publish pane located on the right. Set the desired date, then click "OK."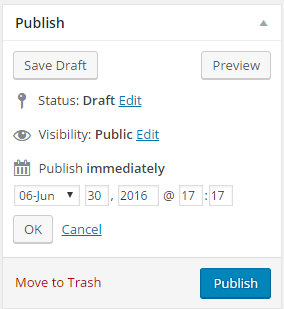 This is the safest way to take a break from blogging and still publish new content as if you had never left.
Tip: You might also wish to install a plugin that automatically posts your articles on social media. Examples include Jetpack's "Publicize" module and Social Networks Auto-Poster.
Revamp Old Posts
Again, the term "Break" here is relative. With that in mind, another way to give yourself a more time is to update old articles with new information.
Most bloggers get better with time and practice; chances are some of your older posts were decent, but not great. This effectively lets you repost something that is already half-way written by updating it where necessary.
Example: You wrote a post on 5 Ways to Make Money as a New Blogger. Why not update it to 7-8 new ways? This works with tons of other ideas, so you can update them to a "2016" version, for instance.
Thankfully, the introduction and conclusion is already written. Simply let readers know that this is an updated version of an older post, and you're golden.
Accept Guest Contributors
Opening up your website to guest bloggers allows your readers to absorb knowledge from different angles and voices. You still want them to follow your blog's tone and "culture," of course, but everyone will always have a certain way of breathing new life into your property.
Make it very obvious that you're accepting guest posts, perhaps with a pop-up or a notification bar (Hello Bar works great for this). You might also wish to let your existing newsletter subscribers know, as some of them might be thrilled to contribute.
Better yet, this would enable you to take a break from blogging while building new professional relationships.
Publish Short Posts
I already covered this topic in this other post…
Basically, the idea here is to post things that take you no more than 15 minutes while still being immensely useful to your readers.
Examples of short/easy posts may include:
Infographics
Videos (with or without a breakdown in your own words)
Curate links (Best-of posts)
News pieces (news are typically 250 words or fewer)
Post a question and encourage users to leave their responses in the comments section or via email
While this won't let you take a break from blogging in the traditional sense, it'll definitely allow you to spend less time worrying about it – hence giving you longer breaks.
Ask Bloggers to Syndicate their Posts
If you've been in the blogosphere for a while, you have probably heard of the duplicate content myth.
In essence, some people used to think that posting your content on other venues word-for-word would cause of kinds of SEO chaos on your website and Google would go as far as de-indexing it from its search engine. As it turns out, Google simply shows the "original" (or first) copy that appeared on the web, while the second (syndicated) copy doesn't receive the same high ranking treatment. And that's just fine.
Similarly to accepting guest contributors, ask bloggers in your niche if they're interested in syndicating some of their posts by re-publishing them on your blog. This keeps it beautifully updated and bloggers get the benefit of a backlink.
If these bloggers refuse to publish their existing posts on your website, invite them to submit a short, 200-word summary that ultimately links back to the full article on their website. This is definitely a win-win situation.
Final Thoughts
Chances are you won't be able to get away from your blog 100% unless you hire a virtual assistant and/or completely ignore other small necessities. These may include answering to comments and approving posts that are "Pending" from other contributors.
Needless to say, the above are a great way to take a break from blogging (to some extent) even if you're forced to check in every now and then.