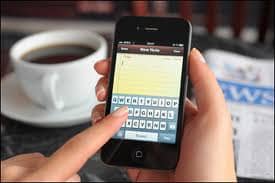 In general, I would say that most bloggers are technologically savvy. They usually love social media, love trying new plugins and designs for the blog, and of course love their smartphones. I know that I can see my emails and Facebook messages with the click of a button, I can let everyone know where I am through my Foursquare , and I get tweets in the form of a text message so I know exactly what someone is mentioning me through Twitter, and I can do all of this on my smartphone. Needless to say, it goes everywhere with me.
I quickly discovered that there are many more s to help me with my blogging than I had realized. While there are quite a few s dedicated to helping you write a blog post, I was more concerned with s that help every part of blogging EXCEPT the writing (I have a hard enough time sitting down at a computer and writing a blog post sometimes; there was no way I was interested in writing an entire post on my phone).
Below is a list of a few of the IPhone s that I found to be very helpful s for bloggers:
IPhone s That No Blogger Should Live Without
1. Awesome Note – I like this because it does it all: takes notes, organizes information, and creates a calendar. You can customize the in any way you like for easy use. As you can see from the screenshot below, you can create different folders that meet your needs. For example, a blogger may want to create an editorial calendar, notepad for possible blog ideas, and a folder for projects in queue.
2. BAM Analytics Pro – This allows you to see all of the information from your Google Analytics account. It not only lets you see all of your statistics and numbers on your phone, but it shows these statistics graphically so it's easy to understand on the go. This is great for those bloggers who love their numbers, but it does have a reputation of crashing if you are trying to pull too much information, so that's something to keep in mind.
3. PayPal – I think this is great for bloggers because many bloggers pay and get paid through the PayPal service. If you do not use this service for your financial dealings, it's something to consider. Although there is a small PayPal tax, it is extremely easy to use and works well for the financial aspects of a blog.
4. Feeddler RSS Reader – Bloggers always want to be connected to the latest content, so Feeddler is a must-have for your IPhone. Feeddler is an RSS reader that allows you to open articles in full text or web as well as mark items as "read" for organization.
5. HootSuite – Naturally, I have to add some sort of social media to the list. Although many smartphones come with a Facebook and Twitter , it's up to you to set up a Twitter dashboard. Hootsuite is my personal favorite because I think it transfers over well to the phone. It works just as well on your phone as it does on your desktop, so I find it helps me feel like I'm always in the loop when it comes to Twitter.
I find that these five s are generally loved by bloggers; however most of these s are designed for the IPhone. Nonetheless, all Android phones have s that follow the same pattern: 1). Organization/note taking; 2). Analytics; 3). Finances; 4). RSS Reader, and 5). Social dashboards. Some of these s do cost between 1 and 3 dollars, but I would say they are well worth the money. These s will help you stay connected to your blog and to other blogs across the web.
Do you use any smartphone s that help you with your blogging? Which s do you enjoy?
Photo Credit: gazette.unc.edu  
Amanda DiSilvestro is a writer on topics ranging from social media to  and medical billing software. She writes for an online resource that gives advice on topics including voip phone systems to small businesses and entrepreneurs for Resource Nation.