Lessons learned – the hard way
There's undoubtedly a stigma surrounding failure, as it can lead to drastic financial, physical and emotional consequences. But instead of focusing on the negatives, I'd like to acknowledge the many things I have learned from this big, bad monster we consistently try to avoid.
Here are some of the ways in which I've grown and learned from failure.
I Took a Hard Look at Myself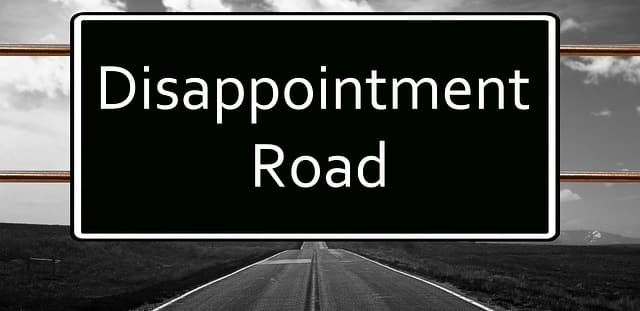 I started blogging "seriously" around 2006, or so I thought. You see, what I really did was become a serial blogger, nothing more.
This meant that I jumped from one idea to another without ever developing them to the fullest. Next thing I knew, these blogs barely made a dollar and traffic was unpredictable at best.
So what did I do after all these failures? I did the logical thing and blamed everyone and everything but myself.
These days I know better…
Sooner or later you have to acknowledge that something is wrong – and it's not always your blog, your readers, or the social network of choice.
I Realized the Importance of Trying
I admit that something great actually came out of my "idea-hopping" days. Back in 2011 I learned all about Kindle publishing, but I was actually reluctant to release my first book.
Who was I to call myself an author? Why would anyone buy anything from me when they could choose an authoritative source instead?
Eventually I published something quick and short – not because I was determined, but rather because….well, I had nothing to lose.
Guess what? That was the beginning of an income stream that's still burning hot today, all these years later. I sold in the double digits during the first month, followed by triple digits the next.
Lesson: You can't win if you don't play.
It Made Me More Humble
Don't get me wrong; it's always been my mission to help others through blogging. But you know what? My attempts would have been half-assed if I hadn't learned from failure in the past.
After all, many people choose to keep their success a secret in order to avoid competition – and this is their right.
However, failure has taught me not to look at everything from a competitive standpoint, as I prefer to make people my allies and collaborate together instead.
I'm Much More Patient
People often fail because they want things right now. That urge for instant gratification makes us sloppy, thus increasing the chances of failure.
This may lead you to settle for "alright" content when you could make it epic. It may push you to purchase fake Twitter followers just to impress others quickly. You get the idea…
These days I sit and plan my strategies carefully and meticulously, which lead to bigger and better paydays.
Failure is an Excellent Teacher
I secretly love to make mistakes, and you probably do as well…
They not only help me improve my business, but I can better serve those around me as a result.
At the time of this writing, for instance, I'm helping a friend start her first lifestyle blog. I'm happy to show her some common do's and don'ts after I spent years experiencing trial and error.
Now she can safely avoid many of these mistakes and reach her goals much quicker in the future. When she fails at something later on (and it will happen) then she can learn from those mistakes and pass that knowledge onto her readers.
Honorable Mentions:
I have become more determined: Do I get frustrated when seemingly nothing goes my way? Of course. But then I come back with a vengeance, and the fruits of my labor have paid off every single time.
Failure comes with the territory: You may be able to succeed in many aspects of your business, but you will eventually come up short with something. Whether you consistently make less money than expected or don't receive as much traffic than you'd like, this is all part of the business. Learn from it.
Takeaway
Everything I've learned from failure is non-negotiable, as I wouldn't trade these lessons for anything. And if you read between the lines, the term "failure" is rather subjective; perhaps we should refer to it as "Lessons" instead.
Bloggers and online business owners: What have you learned from failure over the years and how are you applying these lessons today?
Don't Miss: