Thinking of building a new blog or revamping your existing one? Aside from your everyday topics and basic plugin usage, a website's theme plays a vital role in your overall blogging experience. This can also affect your audience and ultimately make or break your business.
As Christopher Jan Benitez pointed out in this other blog post, a theme's design and responsiveness are highly important these days. Today I'm exploring the topic to insert a second opinion and add other factors to take into consideration.
Let's explore some basic things to consider when choosing a WordPress theme for your website.
Type of Site and Niche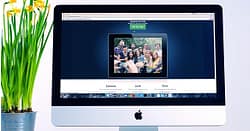 First, consider what type of site you envision – not just now, but later down the road. Many themes are usually multi-purpose, but unfortunately they can also be a "jack of all trades, master of none."
If you're into news writing, for example, you might wish to get a layout specifically designed for that purpose. It may include a built-in slider or a news ticker (assuming you don't want to get these features separately through third-party plugins). Therefore, it's best to know the exact industry you plan to cover and how you wish to represent it before shopping for a theme.
A word of caution: Try not to get a theme that does too much for you. More on this later…
A Free Theme is Fine, But…
Free themes have come a long way in recent times. They are often beautifully designed and user-friendly, allowing you to customize it the way you see fit. For example, a few years ago it was common to find built-in widgets placed on the sidebar, leaving you with the burden of removing them somehow. This is now a thing of the past, at least for the most part.
The benefits of premium themes are usually better tech support, updates, and customization options. I personally recommend purchasing a premium one (from a trusted developer, of course) whether your blog is basic or not. Theme Forest and Themify are two sources I generally recommend for purchases.
Customization & Design
Theme developers generally have a 'Demo' section that allows you to play around with all available options.
How do you feel using it on the front-end? Does it give you a good vibe? Or is the overall layout confusing, too broad/narrow, and are there few customization options?
Assuming you're not a developer, a theme's design and built-in options could mean the difference between a satisfactory purchase and a nightmare waiting to happen.
Overall Performance
Reliable developers usually try their best to lighten the load, but that hasn't stopped plenty of bloated themes from being released.
Feature-rich themes are notorious for slowing down a blog, as they come with many pre-designed features you may not necessarily need. This could include Google map integration, a page-builder, extensive post-type support, and much more.
So, the question is: Are you planning to build a simple, straight-forward blog? What kinds of features can you live without, or at least implement manually without relying on heavy theme options? These are important things to consider when choosing a WordPress theme, especially if you're serious about blogging.
General Theme Support
Speaking of general support, sometimes a premium option doesn't guarantee anything – perhaps due to poor service implementation, lazy developers, among other reasons.
Do you have access to the theme's support forum? If so, do you see a vibrant and lively community? Is the staff supportive? Otherwise, perform a Google search for the theme you're interested in (or the developer) to see what the general consensus is. Lastly, you can take your detective work to another level by contacting them with a series of questions (not related to pre-sales) and analyzing their responses.
Your Thoughts…
There are several more things to consider when choosing a WordPress theme, but the above covers some good, basic questions. What do you personally take into consideration?
Don't Miss: