Due to the competitive nature of SEO, you may find yourself using different link building strategies to outrank your competitors. Some tactics are highly acceptable and even add value to your site, while others are outright spammy and only do harm to your site in the long run.
However, there are tactics that lie in the middle – not bad enough to get your site penalized, but not good enough to be used without reservations. One of these tactics is tiered link building.
In this post, you will learn everything you need to know about this SEO strategy and how you can implement it on your site correctly.
What Is Tiered Link Building?
Tiered link building refers to the process of creating levels of links pointing to each other down to your money page. The goal is to increase the strength of the links pointing to your site by building backlinks to those links.
Below is a visual representation of tiered link building: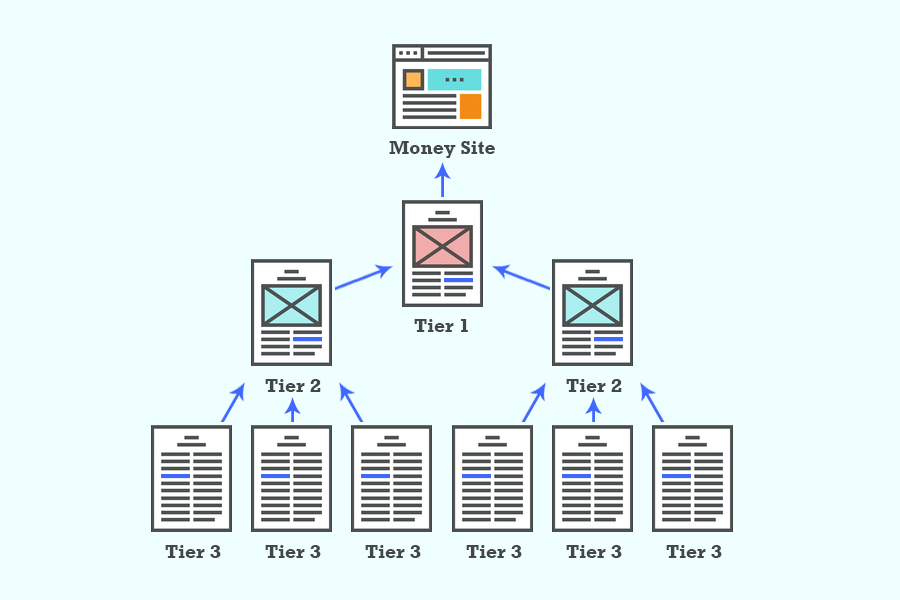 Source: MarketingHack.net
First, you need to create first-tier links or tier 1. The perfect first-tier link type you can get is via a guest post, where you submit content to other sites that include a dofollow link to your website in the content's body or author byline.
The thing about guest posts is there's a chance that your article might be rejected. To ensure this won't happen, make sure you write quality content and observe the site's editorial guidelines. Doing so increases the chances of securing quality links to your site.
At the same time, you don't just write a post for any site. You first need to know if the site is worth writing for. To do this, you need to check the site's authoritativeness and trustworthiness.
For instance, sites like Thrive Global, Enterpreneur, Inc.com, and others generate lots of traffic because people trust them. Therefore, you'd want to reach out to and write for them as much as possible.
To help you identify a website's authoritativeness, you can use SEO metrics like Ahrefs' Domain Authority (DA). It measures the quality of the site based on how many good backlinks it has.
The higher the DA, the more authoritative the site is. And because other people like you are trying to land a guest post on these sites, assume that the barrier of entry is very high. That's why it's important to find as many authoritative sites related to your industry to reach out to. This will help increase your chances of landing a guest post.
Once your guest post is successfully published, the dofollow link from the guest post will pass "link juice" to your website. This should help generate more organic traffic to your website by rank higher on Google.
After securing first-tier links over time, boost their authority with help from second-tier links, also known as tier 2.
Unlike your first tier, you can build links pointing to your tier 1 from the following aside from just guest posts:
Social media (Twitter, Facebook, etc.)
Profile links (discussion/forum sites, Q&A sites)
Web 2.0 (WordPress.com, Blogger, Tumblr, etc.)
You can continue expanding the tiers over time by adding a third tier of sites that link to the second-tier sites, and so on. In doing so, you help increase the strength of the first-tier links by building an army of tier links pointing up. Your site can then rank even higher as a result!
Tiered link building can be implemented in just about any blog or online business. Whether you're an affiliate niche blogger who wants to generate more commissions or a law firm looking for more clients, this link building strategy is a good place to help get your links up nice and easy.

The Thing About Tiered Link Building
The problem with tiered link building isn't because of how it works and is structured. As with most link building tactics, it depends on how people use this framework to rank their website on search engines.
For example, some people use article spinning tools like The Best Spinner or Spin Rewriter to generate thousands of articles from a single piece of content. They will then upload these articles on different web 2.0 sites to generate tier links in a short period of time.
Because the links are built unnaturally and not acquired organically, this makes tiered link building a black hat SEO strategy. And while some may claim that Google has yet to penalize them, they soon will eventually as with most websites who are using this tiered link building method.
Using This Link Building Strategy Ethically
The principle of tiered link building is fundamentally sound, but the tools mentioned used are what make this link building tactic a problematic one.
Instead of using an article spinning tool to generate hundreds of content, write a high-quality and informative post related to your website.
Instead of using an article spinning tool to generate hundreds of content, consider repurposing the content into various formats.
For example, turn an article on your website into an infographic as use it as a selling point to get your guest post published. You can also convert the article into a video and upload it on YouTube with a link to the original article.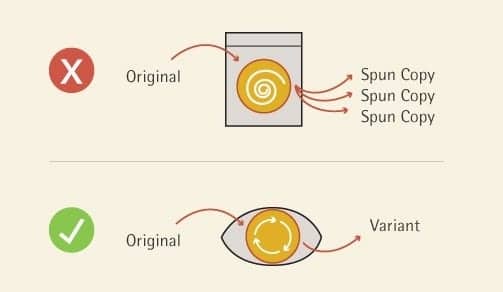 Source: Orbit Media
The idea here is that publishing meaningful content at sites that receive high volumes of traffic, most of which are your target audience, is better than producing low-quality, spun content on web 2.0 sites that pass little link juice to your site, if not at all.
Conclusion
If you want to grow your website's traffic, link building will help you achieve that. At the same time, you need to know how to build "white hat" links the right way if you want to stay on Google's good side.
Tiered link building is one of the many tactics that allow you to build backlinks at scale. And, as you saw above, it's also easy to misuse this tactic into black hat SEO territory and get your site penalized down the line. Therefore, you must make sure that you acquire links organically and provide value to your audience. If done correctly, tiered link building will help you achieve that.
More on link building:
First published in November 2014; updated August 2021