The Best Tools for Freelance Writers & Busy Professionals
At first glance, freelance writing seems like it merely consists of a word processor and a keyboard. While this can certainly get the basic job done, serious writers have opted to use a wide range of tools to enhance their productivity and manage their finances with ease. Thus, the following services are ideal for virtually any type of freelancer.
There are countless tools for freelance writers, many which are often overlook for various reasons. In this case, we focus specifically on the main ingredients that help writers and bloggers take their work to the next level.
Word Processing
As there are many similar word processors out there, let's narrow down the list considerably and focus on the most unique ones available.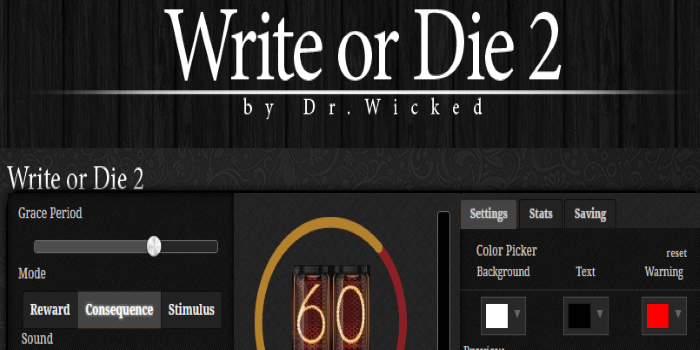 Write or Die 2 "forces" you to write through punishment and reward. If you stop typing for a few seconds, you can set the app to present you with a negative consequence such as a poor image, alarming sounds, and even delete your words. Simply set its built-in timer, followed by the amount of words you aim to type, and let the count begin.
This software has a ton of options, such as the ability to change background color, text, saving to a default location, and more. Speaking of which, Write or Die 2 saves your work automatically every so often so you don't distract yourself while working. All in all, tools for freelance writers have never been so daring; use it if you're prone to slacking off periodically.
Do you get distracted by other word processors' full-fledged options? Zen Writer is a writing tool that sacrifices fancy features for minimal design and tranquility.
The program features a full-screen with configurable backgrounds, adjustable text, and various familiar sounds (such as a typewriter for keystrokes). It lacks most formatting options you are used to seeing, and in this particular case, it's actually a great thing. Combining this tool with any of the other ones in this article could help you become a far more productive freelance writer.
Client Management & invoicing
Tools to assist of billing and manage your outreach.
Hiveage is a superb invoicing software not only for writers, but for every type of freelancer and small business owner that needs to accept online payments. For starters, you can send beautifully-designed invoices packed with your own brand in an easy-to-use interface. This also comes with reminders for clients in the event of late payments, which (unfortunately) is a fairly common issue.
You may additionally prepare quotations for clients and accept payments from over a dozen systems and gateways. Moreover, view detailed reports, finances, and rely on its time tracker feature to efficiently log your work hours and billing-related details. There's a lot more to Hiveage, though the above are amongst the very essentials for freelancers. Give it a try if you're serious about your business.
Freelance writers must rely heavily on maintaining client relationships, and this is where Contactually shines. This contact management service allows you to keep in touch with people, track today's tasks, review past conversations, send mass emails and much more – all from one location.
Additionally, the tool helps you organize different kinds of contacts into "buckets" for better organization. You may set reminders as well as semi-automated events triggered by various actions (such as sending a follow-up email). All in all, Contactually is a gigantic CRM without the overwhelming nature that other similar tools often possess.
Sooner or later, every prolific writer will need to sign an important client document or handle other personal information electronically. Whether you're handed an NDA or any other legal paper, HelloSign makes managing everything a breeze.
This digital signature manager allows you to integrate it seamlessly into your website and create any type of field to collect an unlimited amount of information. Both writers and clients can use this nifty tool depending on who is setting work-related negotiations. Highly recommended, overall.
Time Management & Productivity
Tools to help you keep better track of time and make smarter decisions.
RescueTime helps you track how your time is spent, allowing you to make the appropriate changes accordingly. It's rather easy to deviate to various resources that have little to do with work, after all, especially if there's entertainment involved.
This tool, which works on virtually every browser and operating system, logs the websites you visit throughout the day and breaks them all down before your eyes. You may also train the program as to what you consider productive vs. unproductive, as it tends to grade your activities based on how useful it thinks they are.
Focus Booster is essentially a sophisticated online timer designed for busy freelance writers and other professionals who juggle multiple tasks throughout the day. This is an efficient time-management tool that relies on the Pomodoro Technique. You essentially work non-stop for 25 minutes, then take a five-minute break – with slight variations after several rounds.
You may also configure the tool to suit your needs if you feel uncomfortable with the tight timing provided by default. What's not to like? This is one of the most recommended tools for freelance writers among many, many active users.
TextExpander replaces a letter or word (configured by you) with anything you desire. Think of not having to enter a full address again, your full name, or a phone number – to name a few examples.
The app is perfect if you tend to repeat yourself frequently. For example, a freelance writer may always start an email with, "Hi John, my name is Melissa and I recently stumbled upon your blog." In this case, simply typing "guestblogging" would magically make that long sentence appear. Did I mention your snippets are saved on the cloud? This allows you to retrieve them wherever you go.
Your Turn
There are, of course, many other tools for freelance writers and other professionals out there. From Zen Writer to Hiveage to Focus Booster, these services have become essential to manage your everyday business.
What other tools for freelance writers can you recommend? Let us know in the comments section below.