Admit it—it is sometimes hard to understand certain concepts without having something to see visually. In the online world where everything is fast-paced, animated visuals play a significant role in getting messages across in different platforms.
The same goes for content marketing.
For you to fare well in this industry, you must know the importance of having good visuals in reaching out and connecting with your audiences.
In the social media age that we are in now, it has become quite evident that visual content can boost sales and to market products and services efficiently. Take Twitter for instance—posts that have images in them gained 89% more favorites and 150% more retweets. For Facebook, statistics shows that video posts by users have increased dramatically to 75% globally.
So how exactly is this new piece of information relevant to content creation? Read on to find out.
Messages in One Go
They say that pictures could paint a thousand words, and in the World Wide Web, it is equally important to utilize and maximize visuals when generating meaningful content. Videos and animation encourage interaction better than basic written content can, and with the plethora of tools that you can use for content creation, the possibilities are just endless.
Users now prefer to share infographics on social media since they present information, in a nutshell, as opposed to having a lengthy article that would take minutes before a reader can fully grasp what is being conveyed.
In public service announcements and advisories, for example, people are always on the lookout for updates regarding different situations that concern them. Visual content comes into play by helping people receive timely information right in the palm of their hands; in the comfort of their smartphones. People are more drawn to bite-sized yet concise posts because of how shorter attention spans have now become. This is why videos and other visuals, when appropriately made, do a great deal in content creation for whatever purpose.
Tools of the Trade
As what I've mentioned above, visual content can be generated through various tools and applications. We have listed some of the best ones for you!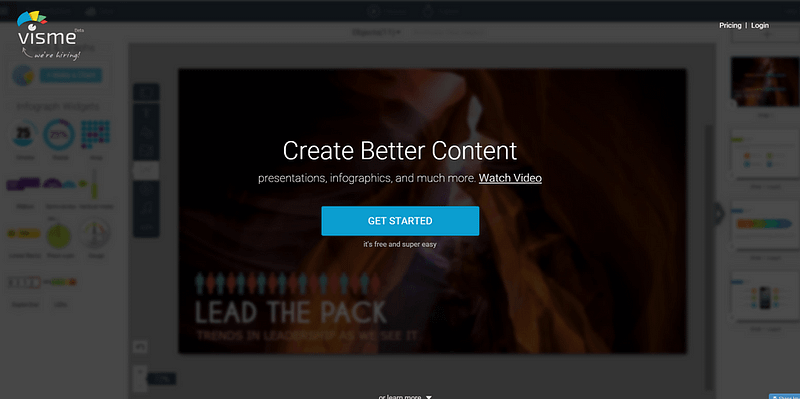 If you've ever had trouble looking for an online site that lets you make awesome visual content for free, then look no further because Visme is the answer to your prayers. This multi-tool allows you to make professional presentations, web banners, reports, product demos, infographics, and even resumés! It is very simple to use and displays anywhere. It also lets you choose from a lot of cool designs and templates. Aside from individual projects, you can also work as a group—share your content with teammates and collaborate in one place. Interactive content is just a click away, thanks to the efficiency of Visme!
Another useful tool for content creation is ThingLink, which is a media platform that lets you create, share, engage, and measure interactive images and videos. What's unique about this application is that you can place media links to photos and videos. This is particularly useful when you are running a blog or publishing a post, and you want to embed dynamic content into it; that is, through links that you will put onto certain parts. With ThingLink, you can make posters, maps, family albums, infographics, and a whole lot more!
Who said animation is only for kids? Captivate your audiences by having fully-animated presentations, whether that be for professional or academic use. If you are an online entrepreneur, and you want to boost your sales or improve your visibility in the Web, it is highly recommended that you make your tutorial videos and presentations with PowToon. It is user-friendly and is great for start-up companies. You can also easily export and share your projects with social media and video platforms such as YouTube—this saves you much time in distributing the visual content that you've made!
Visuals are long considered to be effective forms of communication. Through them, you can speak volumes without saying a word, and helps you craft good content while you are at it.