Increase Website Traffic the Fun Way…
This month I have been exploring some cool ways to increase website traffic, including the use of influencer tools as well as effective blogging communities. Today I'd like to continue that trend by listing some underrated, lesser-known traffic methods.
Without wasting more time, let's dig right in!
1. Submit News to Reddit
Reddit is notoriously picky when it comes to submissions. Publish a typical article and there's a 50/50 chance it will be called "Blogspam." Submit a list post and there's an even higher chance it will be called "Click-bait."
Do you know what has always worked with amazing results and no judgment for me? News submissions.
Thankfully, your website doesn't have to be strictly a news source, as it may consist of publishing conventional articles with the occasional niche news that's relevant to your audience. An example of this would be, "Twitter to allow more than 140 characters?" on a marketing blog.
And in case you're wondering, I have received over 2,000 views in a day by submitting a single piece of news to Reddit.
Here are some of the most popular news submission subreddits (please read their rules)
https://www.reddit.com/r/news/
https://www.reddit.com/r/AnythingGoesNews
https://www.reddit.com/r/worldnews/
https://www.reddit.com/r/UpliftingNews/
2. Create Wallpapers
Creating wallpapers is actually a pretty fun thing to do, and you don't necessarily need Photoshop skills. With services like MyecoverMaker.com and other drag-and-drop tools, you can create top-notch backgrounds in as little as 20 minutes (depending on complexity).
You may also visit dozens of stock photo websites such as PixaBay, which allow you to use many images without a catch. It's only a matter of reading their rules and then modifying them as you see fit.
The trick to increase website traffic, of course, is to brand the image accordingly. Finally, a quick Google search such as "Submit free wallpaper" will instantly show you endless results to showcase your work.
Pro tip:
Depending on the occasion, you could reference current events or anything that may be here to stay for a while.
3. Write Free Tutorials
Tutorial sites are somewhat underrated when it comes to blog traffic. There are tons of niche sources that allow you to get a mountain of eyeballs for your generosity, as you can subtly mention your website somewhere along the way.
Tutorialized.com, for example, is dedicated to 3D graphics and Photoshop-related learning. Here's a quick look at some popular user-submitted tutorials and their traffic to date: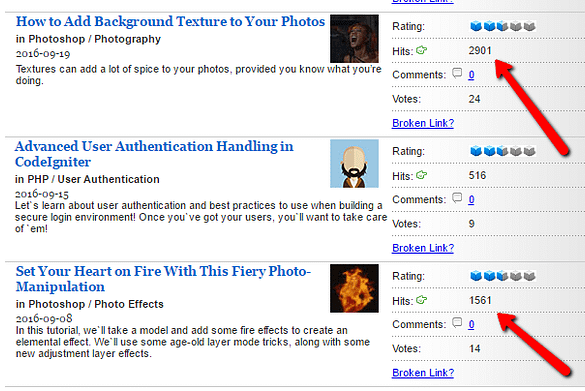 Interesting, huh?
4. Sell a WSO Guide
This little-known acronym stands for Warrior Special Offer (singular or plural, depending on whom you ask). This was coined by a popular marketing forum known as WarriorForum.com.
Among many money-making themes, this forum allows you to sell guides to their hundreds of thousands of users, as long as it helps them make money or advance their business. This could range from tips to grow their Facebook page to ways of making $200 in 24 hours.
For best results, many people sell their guide between $1 and $5 and (naturally) to increase website traffic and get newsletter subscribers.
It's best to have several guides available for sale while posting them several times throughout the year if you notice decent results.
Pro Tip:
The Warrior Forum also has a section called "The War Room" where you can submit your guides without charging readers. Although you have to pay in order to participate here, this section is massively popular and you're almost guaranteed a responsive niche audience.
5. Publish Free Ebooks
Many people dismiss the power of giving something away for free, which is why they miss massive traffic from the likes of Free-ebooks.net and Ebookshabit.com.
Depending on the source, they may have both free and paid options. I suggest using several sources without going too crazy and tracking them carefully. You could subsequently eliminate a few and stick to those with promising results.
For more submission sources, a quick Google search such as "Free ebook submission" or "submit book for free" works wonders.
6. Do the Heavy Lifting
Doing the legwork is tough, as many of us get overwhelmed and intimidated with information overload. Do you remember the popular SkyScraper technique by Brian Dean? Think of something to that effect, but not just with articles.
Make life easier for your niche audience and deliver everything in one powerful package.
Jennifer from AllIndieWriters has a list of 200+ writer's markets listed on her website – neatly categorized and packed with descriptions. Needless to say, she did the tough job of gathering all this data and now her blog is immensely popular (partly) thanks to her efforts.
Your Turn
Have you discovered a neat, underrated way to increase website traffic? Don't be shy and share it with us in the comments section below!
Don't Miss: