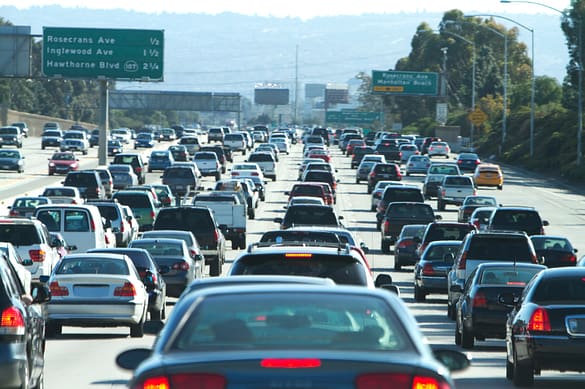 Web presence management provider Conductor, in partnership with research firm Ascend2, releases an SEO research study "Inside Enterprise SEO: SEO Survey Benchmarks for Large Companies." The survey consists of valuable data for marketers about how SEO has performed for clients in terms of meeting their business goals.
One of the most interesting statistics uncovered by the study is the perceived importance of increasing website traffic by marketing, sales, and business professionals:
According to the survey, increasing website traffic is the second most important objective, behind increasing lead generation.
Well, I'm here to tell you that website traffic should never be an exclusive objective of your SEO strategy.
Let me get one thing straight first: boosting website traffic is important in driving more views to your products and services. This way, you increase your chances of getting potential customers to see your offers and sending them down your sales funnel.
However, increasing traffic is never a goal in and of itself.
The only time website traffic can be viewed as a primary goal is if site owners rely on an advertising platform like Google AdSense as their only stream of income for their sites. The more visitors they have on their site, the more impressions they'll receive on their ad blocks (depending on their placement on the page). However, ad blocks are only profitable if they're able to drive in millions of visitors a day. And even if they're making that amount of visitors, it won't matter if Google penalizes their sites and drops them from search results. Goodbye, steady stream of income…
Ultimately, website traffic is an empty metric. The number of visitors to your site only makes sense if there's an end-goal to getting visitors to your site in the first place.
There are lots of post on how to generate massive amounts of traffic to your site. However, do you even know why you want to boost website traffic?
There's a good chance that your answer will consist of other website goals that you need to hit such as increasing signups to your subscription form or  follow you on your social media, to name a few.
The aformentioned goals will help you generate leads that you could turn into customers later on, thus boosting your sales and funds for your business website, something that traffic alone won't be able to achieve for you.
How to make sense of website traffic?
Therefore, you need to consider increasing your website traffic as a means to an end. When forming an SEO strategy for your website or blog, follow through for your visitors by taking heed of the tips below:
Increase e-mail signups. If you are building an e-mail list, make sure that the page that you're optimizing for will have a visible signup form that's easy to fill out.  Read more: 27 Tips on How to Get More Email Signups
Increase social media followers. Cultivate your visitors by getting them to follow you on Twitter or Google+ so you can send them updates, discounts, and other promos. Read more: Use Social Media to increase your Sales
Increase sales. Cut through the chase by offering them your products and services on your optimized page. Read more: 12 Ways to Increase Online Sales 
Question:  Do you agree that website traffic should never an SEO goal in and by itself and should only be a means to and end? Share your thoughts by commenting below!
More on website traffic: