Reliable Sources for Free Images Online
Most websites nowadays simply cannot thrive with some type of multimedia feature. Thankfully, the use of images helps provide a simple, effective way of transforming your blog and keeping it highly engaging.
The problem, however, often lies in the type of image used for your everyday articles. Sometimes we insert a photo not because we are happy with it, but rather because we are settling for it. This is usually due to limited photo availability, combined with a lack of sources.
Luckily there are countless websites dedicated solely to free legal images, ensuring that your creative work is presented in its highest possible quality. Here are some of the best sources to find free images online for commercial use as well as personal purposes.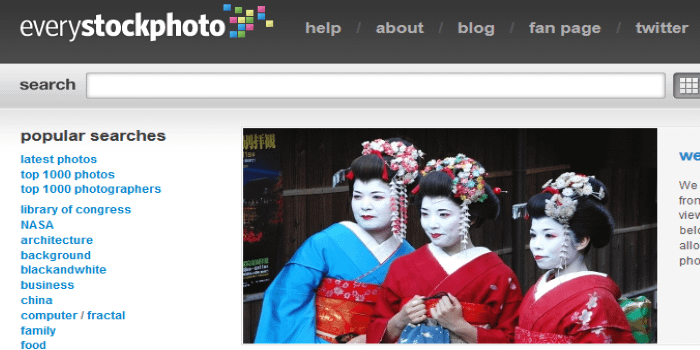 Every Stock Photo is a gigantic search engine with access to over 29 million images from multiple reputable sources. A single search finds you free photos from the likes of Wikipedia Commons, Flickr, Morgue File and other websites. You can filter by image type, license, size and other attributes.
PhotoPin is perhaps the easiest and most attractive of the bunch. The homepage greets you with a clean interface and a search bar to let you get right down to business. With a quick search you can quickly preview the desired image or download it directly from the results page. They also provide several nice filters as you search, including images for commercial use as well as the most recent additions.
Free Digital Photos grants plenty of options for finding free legal images. Not only are these appropriately categorized, but its advanced search feature allows you to filter images by settings not commonly available on some free image sites. Search by dimension, by "any or all" inserted keywords, and even results with or without people in them. Small images are free and attribution is required.
This is a clean, easy-to-navigate source with thousands of free images online. In fact, sometimes I wonder how so many of those can possibly be free considering their top notch quality. You can choose from several impressive options such as black and white images and transparent ones.
Dreamstime is better known for hosting high-resolution, paid photos, but they also provide an impressive list of free legal images readily available for download. Registering a free account grants you access to their library of thousands of free pictures based on common categories and subjects. You can also filter by commercial usage, editorial, and images with people present.
As the name suggests, Free Images is dedicated to bringing you over 380,000 free legal images for download without a catch. Each picture shows an abundance of useful and technical details such as the type of camera used, its brightness level and the software it was rendered in. This allows you to make smarter decisions if you are very determined to obtain the highest quality available.
Getty Images is another popular website along the lines of Dreamstime. Instead of offering free images for download, however, they have developed an embedding feature that allows you to freely insert high-quality photos into your website. The only catch is that these images link back to their website, but that doesn't sound like a bad thing considering the images' high quality and overall reliability.
This website curates tons of high quality images free for commercial and personal use. They all look pretty stunning and can really bring new life to your blog posts as a result. The website's owner is constantly adding new images to the growing library, making Raumrot a worthy addition for all your photography needs.
Final Thoughts
Although the above provide free images online for many different uses, you should still consult with their terms of service and general usage agreement. For example, some images may require proper attribution and/or prior permission before download. Lastly, ensure that you check the appropriate option (if available) if you intend to obtain an image for commercial purposes.
Do you know of additional free image sources? Feel free to share them below.