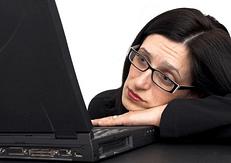 Somewhere along the way, business owners have been fed the mentality that asking for help is a bad sign. Many think that if a company needs to ask for help, it is undoubtedly in trouble. Fortunately, this is untrue in many situations; needing the help of others can mean that your company is growing. This works just as well when you think about blog help. If you run a blog, you are the owner of that blog, and if all goes well it will turn into a very profitable business. For this reason, the blogging industry is really no different than any other industry—when you need help, you need help.
One thing that is pretty specific to the blogging industry, however, is the idea that a blog is a one man operation. For some reason, bloggers are very territorial over their blogs. I think this is because it sometimes takes blogs a long time to grow, and in many cases someone manages a blog while still working full-time somewhere else. In other words, blogging is a one man operation for a long time. However what bloggers need to realize is that if they're good, a day will come when the blog is bigger than the owner.
Therefore, it is very important that a blogger understands when it's time to ask for help. Most bloggers will admit they need help when they feel overwhelmed by reading guest articles and posting them onto the webpage, but the worry usually stops there. While this is a great reason to get some help with a blog, there are other reasons that need to be considered (and not continually ignored).
Top 3 Other Reasons You Need Blog Help
1. When some of your social media networks are being ignored.
Most bloggers are fluent in social media, so they don't feel like they need the help of someone else. Connecting with readers and other bloggers is one of the best parts of blogging, so many don't want to give it up. They may admit they need help because guest articles are piling up, but they simply won't admit that they need help managing social media accounts. However, the truth is there are so many social media accounts available that it should be hard for one person to keep up! If you have an account on several sites and are finding that some of your accounts on those lesser known sites are being ignored, it's time to ask for help. It's never a good idea to have a static account on a social media network no matter how un-popular it may be. This will eventually give your blog a bad reputation.
2.    When there is a big moment coming up in your life.
Bloggers often have another job, so the workweek often exceeds the typical 40 hours. While this may work for a while, it simply won't work as things begin to get more hectic. If you have a major event coming up in your life—having a baby, getting a new job, getting married and moving out—those 40+ hours per week will be extremely difficult. Although it may make sense to put your blog on hold for a short period of time, it's important that the blog does continue strong overall if it's making you money. Therefore, it may be a good idea to cut back on the work hours and hire someone to help keep your blog managed. If you try and do it yourself and find that the blog is slipping, you could lose readers forever.
3.    When you don't have time to write articles for your own blog.
The point overlaps a bit with the "too many guest articles to read" point, but is important nonetheless. Many blogs that are entirely based on guest posts are successful, but it's generally best to have a few regular writers and a few articles from the editor. This gives the blog something unique. A blog full of guest posts can seem very random, but a blog where you can get advice from a certain person time and time again keeps things consistent. Not only do readers like hearing from those in charge, but blog owners are typically happier when they get to share their voice.
How Do You Begin Finding Blog Help?
Bloggers often try and tell themselves they don't need help because there is no one that understands the blog as well as they do. This is certainly true, but it doesn't mean that someone can't learn certain aspects of the blog such as what you expect out of a piece of content or what you expect out of social media. There are two different ways you can find someone to help with your blog:
Consider asking one of your regular contributors. This is the ideal situation because you have seen his/her work and they have a good idea about the focus of your blog. You likely already have a strong relationship with this writer, and in most cases they would be happy to help.
Put out an ad just as a traditional company would. You will likely get a lot of interested candidates, so you will be able to narrow down your favorites. Looking at resumes is important, but when it comes to blogging the best thing you can do is look at just that—a candidates blog. Check out how they manage their blog, their writing ability, and how active they are on social networks. Once you interview a few people, do a basic employee background check and you'll have yourself a great helper.
The most important thing to remember is that you are still in charge. You built the blog from the ground up, so you should want the blog to continue to grow. Many blogs have continued to be successful because the owners enlisted the right help at the right time. In other words, if you find that you might need help with your blog, take it as a great sign that you created something and are moving it in the right direction.
Photo Credit: spiritwomen.blogspot.com, meetcoco.com, en.wikipedia.org
Amanda DiSilvestro is a writer on topics ranging from social media to credit card processing. She writes for an online resource that gives advice on topics including document software to small businesses and entrepreneurs for the leading business directory, Business.com.