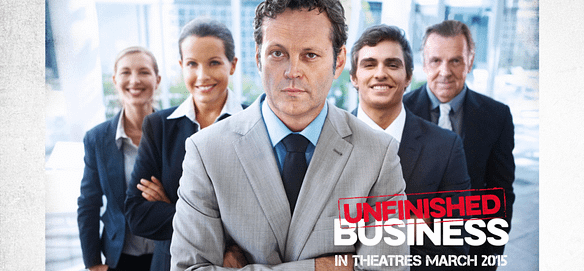 To promote the film "Unfinished Business," Fox teams up with Getty Images to produce a set of stock photos featuring the stars of the filmthatcan be downloaded fromiStock.
The photos show Vince Vaughn, Tom Wilkinson, and Dave Francoin generic and vague poses in a business setting, qualities that make stock photos a laughing stock (no pun intended) as a form of visual content. However, since Unfinished Business is a comedyfilm, the images are tongue-in-cheek to how stock photos are perceived by people.
Due tothe generic appearance of stock photos that people find confusing, using images of real people produces 35% more conversions compared tousing stock images.
However, the example above proves that stock images can be just as effective as any other image featuredasmarketing toolsif used correctly.
So, when should you use stock photos?
As mentioned above, stock images are often malignedmarketing tools and visual website content because of how silly most of them look.
However, it ultimately depends on the context on how each are used to achieve the desired effect.
Below is a SlideShare presentation created by Brittany Leaning, Hubspot's social media manager, that details the best (and worst) ways on how to use stock images to convey your message.
Takeaways
Turn generic photos into unique ones. Sites like DreamsTime have wonderful images but being able to add filters and text to your chosen stock photo can help make the image unique to your blog or website. Being able to add filters and text to your chosen stockphoto can help makethe image unique to your blog or website. Not to mention, doing this allows you to create a shareable image that you can post on social media sites like Facebook and Pinterest.
If you lack the necessary design skills on to edit stock images, here's a post that you should read.
Don't go the easy route.Using cats as images for your website or blog content just because they're popular is never a good reason to go that way. Also, using images of overexposed stock photo girlcan be fun, in addition to the fact that she appears in different industries that suit your business. But by using popular stock photo models asyour image will not make your business stand out above your competition, who may be using the same model for their image as well.
Think and be creative with the image you will be using.Your image should always tell something about the topic being discussed in your blog post or website content.
In anexample presented on the slideshow presentation above, the title "These 12 Marketing Insiders are Actually Worth Following" uses the image of ducklings following a duck. While ducks have nothing to do with marketing in general, the sheer act of ducklings following complements the post title.
Final thoughts:Stock photos suck if you don't know how to use them right. By skimming through the slideshow and reading this post, you should havea better idea on how you can leverage stock photos to help you convey your content's message more effectively.
More on stock photos: