One of the greatest advantages of the internet is the ability to perform transactions globally. In the past decade, we have witnessed the growth of the eCommerce industry and how it changed how people do business. Entrepreneurs set up online stores to generate passive income, businesses communicate with each other without physical limitations, employers outsource from the global pool of talented professionals, and established brick and mortar businesses extend their reach through the World Wide Web.
Despite all the privileges that the internet offers modern businesses, there is still one particular barrier that it cannot fully eliminate – the language barrier.
Why It Matters
What do mega-corporations like McDonald's, Apple, and Google have in common?
Their advertising caters to the international audience using their native language. This has a direct empowering effect when it comes to the authority of these brands. And if you think a tad smaller, you will see that websites with full-time translation services can get similar marketing benefits. And by the end of this article, you will learn why going multilingual should be the next phase of your business.
Of course, anyone with a computer and internet can access your site, but that doesn't automatically mean they can understand your content. If you think about it, this can cripple your marketing efforts by limiting your target audience to only those who speak English, which only accounts for approximately 28% of the online market. And as the international marketplace continues to grow, so does the number of people on the other side of the language barrier.
At the end of the day, having a multilingual site is your entry to reaching the global audience. Just take a look at the infographic below from a translation services to understand why you need to think big and gear up for the big world.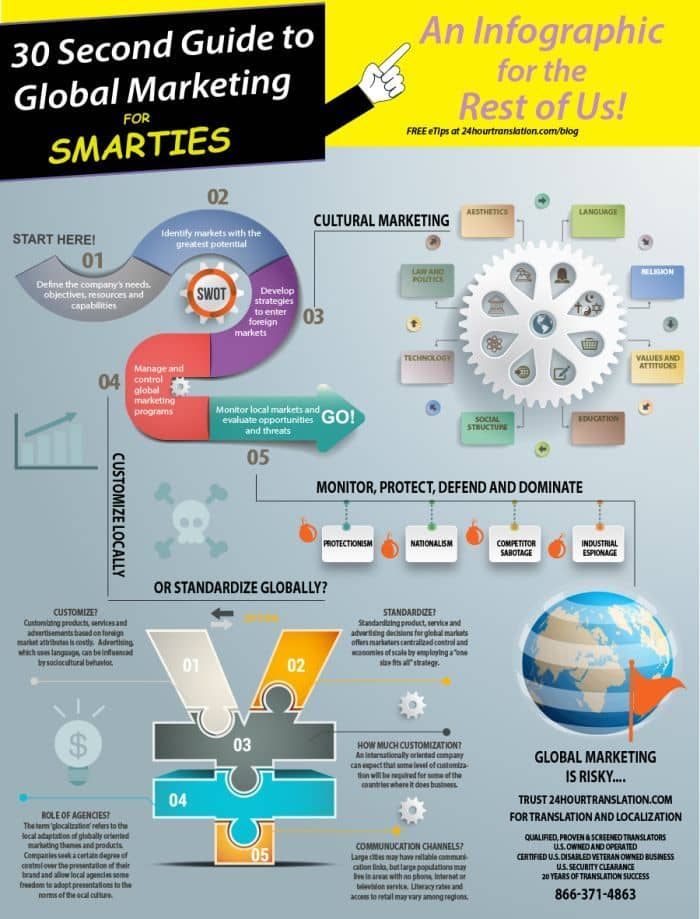 Improving User Experience
So you have polished content for your English-speaking audience?
Good, but what about those who speak French, Portuguese, Japanese, or German?
User experience is a concept that heavily relies on the presentation and conveyance of the needed information. But if said information is delivered in a suboptimal way – say, in a different language that the visitor couldn't understand – then the flow of experience would be ruined.
In addition to the words themselves, you should also translate other forms of information such as unit measurements and currencies. Remember that your website is the face of your business on the internet. Supporting translation services for different languages automatically establishes authority and the legitimacy of your brand to those who speak them.
Increasing your Conversions
Here's an interesting fact: 72% of online consumers browse the internet using their native language. Furthermore, the same percentage is more willing to purchase from a translated site. This is because it builds trust, which everyone knows as a key factor when it comes to online selling.
Europeans, for example, are very particular when it comes to online purchases. 90% of European users will choose to view a page that's translated to their native language if the option exists. This is because they prefer learning all they can about a product before closing a purchase, which is more conveniently done using a language they know by heart. On the other hand, about 42% of them are strongly hesitant to purchase a product or service if no translated information is available for it.
It's quite simple. Think of how much your entire marketing process depends on written content. This affects your marketing emails, your landing pages, your paid advertisements, and pretty much everything else you use to nurture your leads into paying customers.
Gaining a Competitive Edge
Believe it or not, a considerable portion of all online marketers still overlook the importance of translation when it comes to selling. While only a little more than a quarter of the entire online marketplace speaks English, more than half (55%) of all content available through the internet uses the language.
Simply put – English does not have statistical evidence to justify its reputation as the internet's language. Luckily for you, there's a good chance that your competitors haven't realized this yet. It's best that you act now, though. Remember that information flows freely through cyberspace. Materials such as this article are always within your competition's reach.
The Next Stage of Growth
Let's say that you're quite satisfied with how your online business has been performing. While supporting only English, your earnings have been consistent thus far and sales performance isn't really an issue. But if you consider yourself as a competitive business leader, then it is your responsibility to always broaden your perspective and look for new opportunities for growth. Translating your site is probably your ticket to reaching the global audience and significantly increasing your target market. And if your current single-language site is doing well, then offering it in another language will most likely be a very fruitful venture.