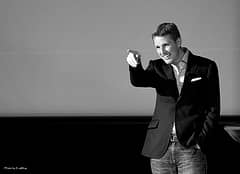 This last weekend the most important WordCamp went down in San Francisco. One of the reasons this is the most important one is that Matt Mullenweg, one of the founders of WordPress, gives his State of the Word. A keynote in which he highlights things to come and things that have been happening in the WordPress community.
There are a few things from his keynote I'd like to highlight.
New Default Theme
Matt stated he was very enthusiastic about the new Twenty Ten default theme. Even though Kubrick lasted for 5 years, the goal is to replace Twenty Ten next year already. So there will be a new default theme every single year. Twenty Ten will bring dropdown menus, custom post headers, custom backgrounds and a lot more.
Custom Posts Types
As you can have gathered from my Getting Ready for WordPress 3.0 post, one of the most exciting, if not the most exciting, features of WordPress 3.0 are Custom Posts Types. Apparently I'm not the only one of that opinion as mentioned that Custom Post Types will finally bring Custom Taxonomies to the next level.
Two Major Releases Cycle per Year
During last year's State of the Word Matt mentioned that WordPress would see three major releases per year. This year they will bring it down to only two major releases per year. This will help to focus on hardening WordPress and improving on performance.
WordPress Security
With all these hacks going on at the moment it was no surprise one of the questions that were directed at Matt was about WordPress Security. This is what Matt had to say about that:
All code will always have bugs. Some of those will have security implications. The key is to make it as easy as possible to allow upgrading. In the coming year one of the things that will happen that will increase security for WordPress, a lot more hosts will focus on how to keep their customers more secure at the server level which can do more to protect WordPress than WordPress can do itself. via WPTavern.
bbPress
Matt also commented on the future of bbPress, a piece of forum software I have come to love for its simplicity and ease to use. He stated that bbPress will undoubtedly be tied closer to WordPress and that the future of bbPress will be a in the form of a WordPress plugin. Right now things have been very slow in terms of development pace, but in due time bbPress will receive the proper attention. I personally would love to see that happen rather sooner than later. I think the lack of attention for bbPress over the last year has been going on way too long and I seriously hope that the new design of bbPress.org released yesterday is the beginning of lots of activity over there.
WordCamp
Now, your typical WordCamp is not just about the State of Word, but rather on the community getting together and sharing knowledge and getting to know the guys and girls behind those blogs and twitter accounts. Have you ever considered of even been to a WordCamp yourself?
Update
You can now view the entire State of the Word keynote

Post image by Eva Blue