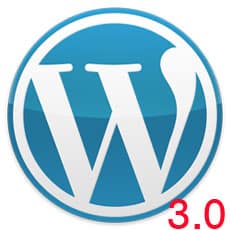 Almost three weeks ago WordPress released WordPress 3.0 beta1. At the time of that release the estimated release date for WordPress 3.0 was set at May 1st. Unfortunately that date was not a set as we'd hoped it to be. There's been a lot of discussion about the the new WordPress 3.0 menu functionality over on the WordPress development blog. Even Matt Mullenweg posted an entry on the blog stating:
Deadlines are not arbitrary, they're a promise we make to ourselves and our users that helps us rein in the endless possibilities of things that could be a part of every release.
Unfortunately Matt was implying that the new menu function might not make it to the final release if nobody could find the time to improve whatever needed to be improved. Luckily two days later the necessary work was done and by the looks of it now the new menu function will be included as we expected. I must say, I know a lot of people were depending on that feature to be implemented, so the prospect of having that feature excluded even after a feature freeze seems odd to me.
It would indeed make more sense to me to postpone the due release date of WordPress 3.o and that's exactly what happened. Personally I am a bit dubious about the postponing. I mean regarding the menu management; I have already showed you that there's already a very sound solution for a very flexible menu management. However the provided user interface of WordPress 3.o table is a much more visually pleasant one, although I do think the previous version had a much better user interface. There's very little left from the original WooThemes menu; looks and code.

On the other hand the Custom Post Types functionality is one I'd love to have right now for two projects waiting for this functionality. So, postponing a feature rich new version has it's ups and downs. The good thing about all this is that a lot more time can be spend on bug hunting and this is what the betas are for.
If you would like to help testing WordPress 3.0 beta, install the Beta Tester plugin but before you do that, please backup your database before upgrading to a test release. Should you discover any bugs do report any bugs you find. Of bug hunting is not your thing, you can of course install the latest beta and just have a quick look of what WordPress 3.0 has to offer.
WordPress 3.0 beta 2 is expected any moment now. As soon as it is released I'll add the extra information to this post.
P.s. While you're at it, make sure you took a look at your WordPress security.