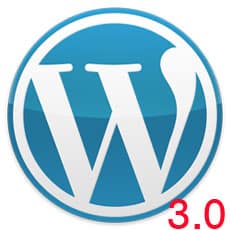 Yesterday saw the much awaited release of WordPress 3.0. I've talked about this 3.0 release numerous time here, but it's finally live. As far as I can remember this is the most awaited version because of the heap load of new features. You can tell the guys at WordPress are pretty excited about  this release too judging by their release post:
Major new features in this release include a sexy new default theme called Twenty Ten. Theme developers have new APIs that allow them to easily implement custom backgrounds, headers, shortlinks, menus (no more file editing), post types, and taxonomies. (Twenty Ten theme shows all of that off.) Developers and network admins will appreciate the long-awaited merge of MU and WordPress, creating the new multi-site functionality which makes it possible to run one blog or ten million from the same installation. As a user, you will love the new lighter interface, the contextual help on every screen, the 1,217 bug fixes and feature enhancements, bulk updates so you can upgrade 15 plugins at once with a single click […]
My guess is that we'll see a lot of WordPress developers come up with a lot of exciting stuff in the form of plugins and themes. I especially think we are going to see the new custom post types functionality appear in a lot of new plugins and theme solutions.
WordPress 3.0 resources
Before you dive into the upgrading proces do check out the previous posts I did about WordPress 3.0 and that are filled with a lot of resources.
Now, it's of to upgrading all of your WordPress installations.. or are you holding off anticipating a 3.0.1 release?