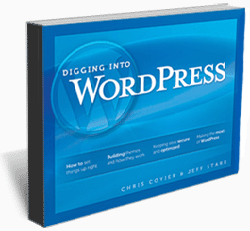 The WordPress book receiving most coverage in 2009 was probably Digging Into WordPress, by Chris Coyier and Jeff Starr.
In December 2009, shortly after publication I had the opportunity to interview Chris and Jeff. The book was initially launched as an ebook for $27 and later a print version with spiral bind was released as well. Printed and bound in house by family, thus sadly checking in at the rather expensive price of $67. More on the price later though.
Who Is The Book For?
If you've ever visited the Digging Into WordPress website you immediately know what to expect from the book. Chris and Jeff have targeted the book at exactly the same audience as the website is written for. This is no book for the WordPress beginner.
Although the first pages, chapters, are a quick introduction to WordPress, it doesn't take long before you are explained what the core components of WordPress are (screenshot below), what a web server is, what code editors are available and what FTP-clients. Little more than 40 pages in the book, the real work starts and Jeff and Chris welcome you with an in-depth analysis of the structure of a WordPress theme. There is no doubt about that these rockstars are designers and the book will mainly be enjoyed by readers who want to play with their blog setup. Who want to take WordPress further. Jeff and Chris become your personal guides for around 400 pages.
In a visually interesting style the book walks you through most areas of WordPress, providing lots of tips how to tweak your setup, how to enhance your themes and get the most out of WordPress.
Jeff and Chris take the reader by the hand and you pretty much anything there's to learn about WP and that's lots. These guys know what they write about and the platform they use and love.
The Visuals
One of the first things about the book is the orientation of pages. Landscape. Although I have the ebook version (a review copy), only a quick look only at how pages are laid out, both the PDF and print edition, tells you what Chris and Jeff set out for.
There is no doubt about it, 'Digging Into WordPress' wants to be the only WordPress book on your desk and is styled consequently. The print version has ample whitespace for notes and similar whitespace can be found back in the ebook. You can see more pictures of the print version here.
Discussed Topics Are Made Clear To Anyone
In my introduction I said that this is no book for the beginner and shortly after that I said that Chris and Jeff take the reader by the hand and learn you everything you need to know.
I lied.
I consider 'Digging Into WordPress' a book for the user with an advanced knowledge level of WordPress, but it is also for beginners. Actually DiWP will make beginners forget that they are beginners and makes the reader want more.
Soon you will want to customise WordPress and will be browsing the archives of the Digging Into WP website, on the hunt for new tips and tricks.
You just want to know more once you've read the complete book. Know more because you feel like a WP-specialist already and how could you not? Just have a quick look at the table of the main part of the SEO chapter (Chapter 8). Even a beginner feels like an expert after this!
Something More About The Visuals
I have a confession to make. Jeff Starr and Chris Coyier are both well known CSS gurus, Chris maintains the excellent CSS Tricks and Jeff is behind the just as awesome Perishable Press and their excellence in designing for the web, for computers makes this book special.
Special in a different kind of way. I actually read the whole book on my laptop, a 13″ MacBook Unibody, in full screen mode and thoroughly enjoyed this for me new way of reading an ebook. In fact it was one of the most enjoyable PDFs I have read on my laptop (obviously also because I love toying with WP).
I can not wait to read the ebook on an iPad. If you don't know if you will be able to read PDFs on an iPad, here's a tip for you: email yourself the PDF, on the iPhone you can read PDFs in emails so you will also be able to read them on the 'Pad.
Should You Buy 'Digging Into WordPress'?
The main factor when deciding whether you should buy or not is the price. $27 For an ebook and $67 for the print version certainly isn't cheap but there are many advantages.
First of all you get lifetime updates and the book is updated with every new WordPress release. Secondly there's an awesome affiliate kickback, 50% on PDF sales and almost exactly the same amount for the print version.
If you buy the printed book you also get access to the ebook and receive the same updates.
[pull]'Digging Into WordPress' wants to be the only WordPress book on your desk[/pull]
The complete book index and a sample chapter can be read at the Digging Into WordPress site.
To conclude, this book receives the MUST BUY! award, but I have to warn you, after 'Digging Into WordPress' you will want to know even more and become a master of the WordPress.
I would rate the book with a solid 8.5/10 but that would be entirely selfish because it would include a penalty for being that large and spiral bound. But only because my future involves an international move, with backpack and large books and spiral binds are not compatible with backpacks, nor is there space in my Crumpler messenger bag for a book of this size. So… honesty due where due and 'Digging Into WordPress' gets a very respectable 9/10 from me.
'Digging Into WordPress' are $27 well spent and if you have the funds, you certainly should consider the print version. Many will never need a second WordPress book, others are bound to become WordPress experts after DiWP. Go buy your copy now.