I love the Weblog Tools Collection blog as much as any other person, but I always thought that others deserved a more equal billing on the site, especially since WTC updates so often.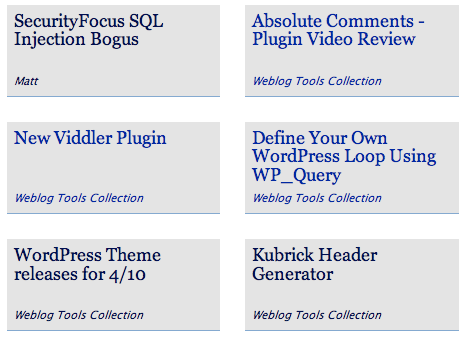 Today, when I checked my dashboard, twelve of the twenty items were from one blog. Half of the remaining were from Matt Mullenweg, and the rest from four others in the community. With WordPress being installed as the go-to software for WordPress, shouldn't there be better representation of the community in its dashboard?
I propose that the default dashboard feed should be set up in such a way that it doesn't show more than the two latest items from each site. This would mean that other articles from other sites would be shown in the dashboard longer rather than being pushed out by the Weblog Tools Collection constant and consistent addition of new items.
As a community, what do you think? Is the limitation I am wanting to impose unfair in some way? What blogs would you like to see more of in the main dashboard feed? For all of you WordPress 2.5 users, have you changed your dashboard?
Let me know in the comments below.