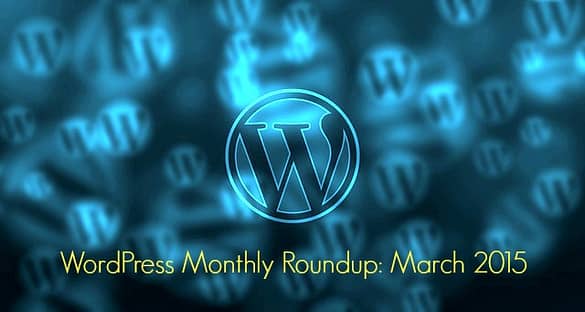 WordPress Monthly Roundup is a new feature on this blog to showcase the latest and best WordPress themes and plugins of the month. Every roundup will be published at the end of the month so expect the next post to be published the last week of next month.
Plugins

Markdown is a markup language that has been gaining steam as of late. If you are used to using Markdown as your text editor, then this plugin will make it easier for you to write and publish posts. Once activated, disable the visual editor of your WordPress so you can use Markdown from the HTML editor. If you wish to render all your blog posts into Markdown, you must use the Markdown Module of Jetpack to do this.

If you are running a CRM (Customer Relations Management) system from your WordPress blog or site, install this plugin. This is a great way to store vital information of your customers or subscribers and indicate team members who are assigned to each customer. If you have no experience in using a CRM tool before, expect to encounter a learning curve when using this tool.

Simple way to write notes on each post that your blog authors will immediately see from the topmost part of the sidebar on the text editor screen. If you are editing the work of writers from a WordPress blog or site, use this plugin to let them know of their mistakes and whether or not the post is ready for publishing.
Themes
Latest blogging platforms like Medium and Ghost lean towards minimalist design in order to put the emphasis back on the written content. This theme aims to "make your content sing" by taking the same minimalist approach so readers can put their attention on the posts you publish instead of getting distracted by different plugins.
This works great for people building a portfolio of their work (in particular designers), documenting their travels, and writing down their experiences as part of the band performing onstage.
Another WordPress theme geared towards portfolio makers, Masonry showcases your design and photography works similar to the grid-like appearance seen from Pinterest. The theme's responsive design lets your site or blog to be seen by visitors in any device. Other features include social icons, custom menus, easy to edit headers and backgrounds, and more.
Another portfolio-based design for your WordPress blog or site, Isomer is a "freemium" theme that runs on Bootstrap 3 framework. The portfolio section of the theme is featured above the fold while the blog entries can be found below. To make the portfolio boxes appear on your blog, download the Metabox plugin.
Other features include custom styling, banner settings, intro sections, and more.
The font face of your blog can work as its design at the same time. That can't be any more evident with this WordPress theme. Typography makes great use of the white space to create an attractive environment for your blog or site content. Theme also contains a slider option, social sharing , custom menus, and more.
If you have a new plugin and theme or posts about both that you want featured on our monthly roundup, please send them here.