I have two amazing plugins for everyone today called TopLinks and FriendsRoll.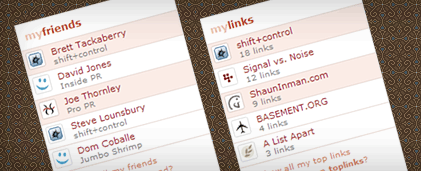 TopLinks shows a list of the sites you link to the most in your posts in a really nice little widget while FriendsRoll allows readers to connect with you in an easy way and have their link shown on your site.
I know the developers of these plugins, so I might be a little more excited than I otherwise would be, but I hope you will all give them a good go, and let 76design know of any errors or issues with the plugins.
I am really excited to see these take off, especially TopLinks, as I think it could be a useful staple to some of my WordPress niche focused blogs, allowing me to show off the resources I use most often.