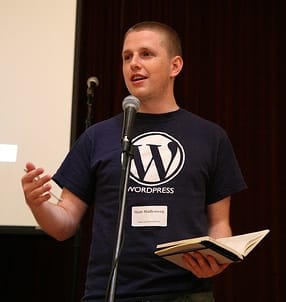 Ryan Boren has posted about the t-shirts that WordPress has used to promote its product and let its users show their support.
His post is listed on the WordPress Dashboard, but I wanted to talk about it here for a minute because something really bugs me. I am considered an international WordPress user, as I don't live in the United States of America, and as such, I don't get to attend all the cool conferences and events very easily, especially since I live closer to the east coast than the west coast, where Automattic is located.
There are four, soon to be five revisions of the shirt, and yet, I still can't buy one and I really want one. I think while the Automattic team might not make much money from shipping us international WordPress fans the shirts, that they should make it a priority to set up a capable storefront anyways. I want to show my WordPress support, and look like Matt Mullenweg too!
Thanks Ryan for reminding me about this, and check out his post to see all the current versions of the WordPress T-shirt out in the wild. Oh, and the second version is the best so far. I look forward to seeing what you guys come up with for the next shirt.