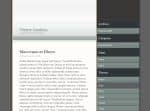 The final day of the If..Else theme challenge, but hopefully not the last theme released by Phu, is Bosa. I am not as big of a fan of this design as I am the others, but it is still very nice, and I can see it being customized into many sites.
Today's theme is Bosa, a theme that is big and bold but which also carries an air of calm tranquility.
Grab it over at If..Else Log.