Performancing have released a new WordPress theme, designed by Design Disease, my favourite WordPress theme designer, College is a two column theme with an interesting seven colour palette.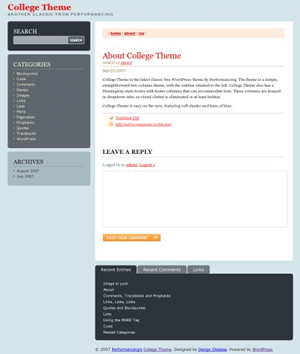 It's a new year and Performancing is excited to get things kickstarted with another free WordPress Theme. Developed by our friends at Design Disease, and available for free download, the College Theme is a two-column theme with sleek, rounded corners and a stylish 7+ color palette.
The College Theme for WordPress would work well for about any blogging application. I can see it being used for a range of projects including music, health, web 2.0, and a whole host of other topics.
I really like this theme, and its use of JavaScript for its tabbed super-footer is really interesting. Check it out over on Performancing.