Elena, the designer of this and many great blogs in the Splashpress Media blog network has released another free WordPress theme called Compositio.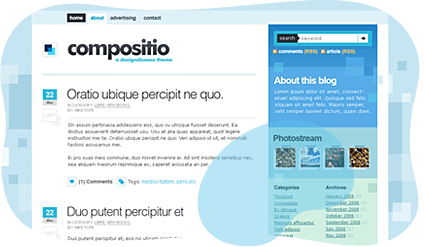 Compositio is a two column theme, made to for those who want to put their content at the front with a unique light blue design. Random square shapes are the defining graphics of this theme. They are used throughout the background, bringing a special rhythm to the theme.
A special feature of this theme is the logo changer. ( Thanks to Munzir Rosdi ). You can use the default WordPress setting ("blog name") or you can use your own logo. Upload your logo in the root folder of Compositio theme and name it logo.png. You can also use the PSD Logo Template in the source folder of Compositio Theme.
I am very excited to see how people use the theme, and its new logo feature. Kudos to Elena and the Design Disease team.