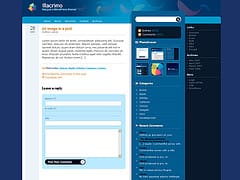 For those of you that have loved previous themes released by Bloggy Network here on Blogging Pro, we have gone and released another one over on LifeSpy.
LifeSpy is one of Blogging Pro's sister blogs that covers all your lifestyle news and some great quick tips on how to better your life.
Check it out Illacrimo on LifeSpy.com.
If you'd like to see a live version, feel free to check out my personal blog, as I am using it there curently, at DavidCubed.com.