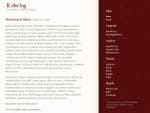 Day five of the If..Else theme a day project, comes Jentri. Like almost of the designs, it is a two column design, with a simple, but elegant look.
Jentri, is reminiscent of such; for me, it gives off an air of comforting sophistication and provides the ideal canvas for words; the perfect setting for thoughts and insights to reside.
Check out Jentri at If..Else, and add it to your theme rotation. It is really well done.