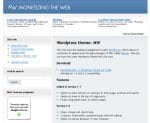 MW is a really simple, but elegant looking two column theme for WordPress that includes a variety of color schemes as well as support for some popular things like Gravatars.
Some modules: last articles, related articles…
Subscription options (Bloglines, Feedster, Google Reader…). Digg, Del.icio.us and Furl links after articles.
Comments: automatically highlighted trackbacks and author comments. Integrated gravatars.
Easy ad management through specific files to that effect. Ad units in the header, after the two first article blocks (Google AdSense compliant) and at the bottom. AdSense section targeting.
Grab it over at Monetizing the Web