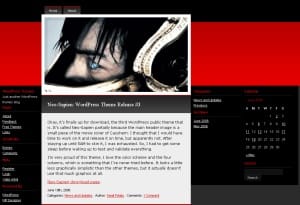 My favourite colour is red, and I love darker layouts, especially now that I am in the LCD monitor club, and black does not look as dark as it used to. Neo-Sapien is a great three column theme that uses red and black in a very nice way.
The color scheme is red, black, and white. The header image is a small piece of Casshern's movie cover. I'm about 15 hours and 34 minutes late on releasing this theme because I was up until 5 am working on skinning it. Right after, I had to sleep. So, here I am releasing it now.
Although it has not been widgetized and there is no running widget version of this theme, if you wanted to, you could easily widgetize the sidebar. I coded it that way despite that I didn't add the codes for it to work with the Widget plugin. I think I'll come back to this theme later to create an extended version for that plugin.
Check it out at WPDesigner