It does not happen often, but occasionally you find a free theme for WordPress that is completely *droolworthy*. I have to disclose upfront that I am a big fan of both grid-based designs, especially when they follow a strict and mathematically correct grid, whitespace and Khoi Vinh.
One of the things I expect from a theme is that it doesn't get in the way and highlights content and especially with grid based design this is something which can easily be screwed up. But the grid-masters know how to display both content and a strict grid correctly. One of the most popular grid designs for WordPress is without any doubt Grid Focus by Derek Punsalan.
There's a new contender in WP-town for grid-based design lovers!
Introducing Pico by Hafiz 'WPLover' Rahman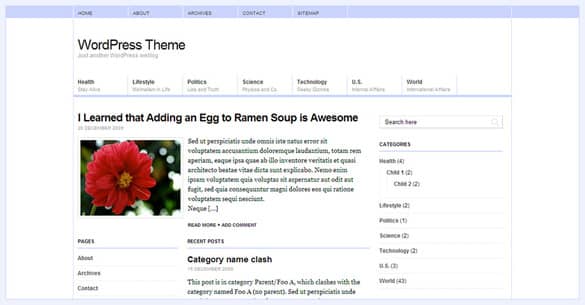 WPLover is a well-known WordPress news-site edited by Hafiz Rahman, who is also a great WordPress news link curator, and the design of WPLover doesn't hide it: Hafiz loves the grid.
Previously he already treated the WordPress community with several Thematic child themes, all showcasing mainly the content, while using whitespace as a perfect tool, weapon almost, in his designs.
Pico is Hafiz' first 'non-child theme' released for WordPress and how better to introduce a grid-based theme than with a gorgeous grid-based Pico introduction page?
Pico features
[pull]Heck, you can be lazier and have no image. You won't get a thumbnail, but the layout will still look juust fine[/pull]
Pico follows the popular trend of most modern WP themes from WordPress and comes with several widgets areas, has a featured entry section, in the form of a featured widget, and is optimised for WordPress 2.9 with support for canonical thumbnails.
Pico also has breadcrumbs above the post and has kept the archives page structure of Mimbo, which the Pico code is based on. Personally I much more prefer this list display for archives than the more traditional excerpt pages.
I am sure that many will want to increase the number of listed entries on this page and this can be done in the page-archives.php file of the theme.
Category navigation with a twist
The most prominent feature of Pico is the header based category navigation with category description. Hafiz has documented how to add a similar navigation here on WPLover. The category navigation also has a great way to show child categories.
Although this function works out of the box, it does require some discipline and only works well if your category names and descriptions are short.
Some Minor Remarks
As with most themes I found some really minor issues:
The header category navigation works out of the box but I have found it to be troublesome to display the categories I wanted to be displayed, and not the selection Pico chose. But that's probably because I'm a control freak;
On category archives, the thumbnail does not always display correctly;
On category archives it might be better to embed the Excerpt Reloaded as the standard WP excerpt breaks off before the thumbnail.
Final thoughts on Pico
I must admit that I love this theme and the light blue colour works just perfectly. I wished I had a blog I could use it on. It is gorgeous, has a solid code base and comes with some great gimmicks (hint: add a sitemap page to your theme). The construction of the home page, with a list of older posts is another detail I love about Pico, and something I have used on my own blog as well. More themes should adapt this approach for home pages.
Just like Ian Stewart's Kirby, Pico is a theme I would use without any major code changes.
More even, I do hope to soon be able to port the Pico theme to another blog platform but more on that next month (I hope).
You can read more about Pico and download the Pico theme on the Pico introduction page.