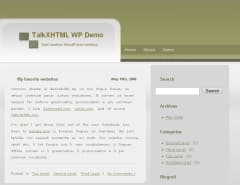 TalkXHTML.com has released a new theme created by the Skins for WordPress folks. It is a two column theme that is primarily green and grey, but it does look like it would be easy to modify for different colours and usages.
This theme was created by Skins for WordPress who are offering this theme as a special promotion. Completely free, and pretty nice too. I'm very impressed with this theme and I see a lot of modification possibilities out there.
Check out the Preview and then download from Here.