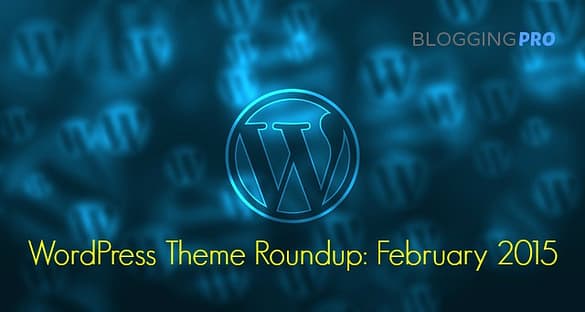 WordPress Theme Roundup is a new feature on this blog to showcase the latest and best WordPress themes of the month. Every roundup will be published at the end of the month so expect the next post to be published the last week of next month.
Below are the newest themes you can purchase or download for free.
Everal is a freemium WordPress theme that you can download after following theme developer Cohhe on Twitter.
Features of Everal include:
Retina ready – images scale to hi-def screen down, providing visitors with a seamless user experience
Ultra responsive – When viewed on any device (desktop, mobile, tablet), the theme will adapt to the screen size for optimal viewing
Theme documentation – Refer to this file for a complete rundown of the theme while covering its most important functions
For bloggers looking for a theme that focuses on the writing, then Aventurine is for you.
The name is inspired by the Italian phrase a ventura, which translates to "by chance." A quick look at the theme would make you believe otherwise. The deceptively simple appearance of the theme harks back to the time when a blog is a platform to share your ideas through words.
Aventurine is a deliberate statement against supercharged themes by going the minimalist route.  There are no sidebar or widgets featured on the body of the theme. It does embrace the features of the Jetpack plugin (carousels, infinite scroll, Photon, etc.).
WordPress themes need to strike the perfect balance between speed and appearance. Whether you're running a personal blog or a business site, this theme will give you an elegant and fast site to impress and retain your visitors.
Businesses looking to build a mailing list, create sales funnel, and manage their online reputation will have a field day using this theme. A1 has a built-in funnel templates to organize how you can turn visitors into leads or customers. With the wealth of templates choices, you no longer need a third-party service like LeadPages to manage your sales process for you.
The Reputation Management feature lets you college testimonials and reviews about your products and services. You can then thank people for their positive feedback and rectify any negative criticism before it gets out to the public.
This is a paid theme. Click here for the price packages.
If you want to build a website for your bar or restaurant, Auburge is a responsive and retine ready WordPress theme that you should try. It has a feature that lets you create a food recipe or menu of your restaurant using the JetPack plugin. It is an SEO-friendly theme that will help your site rank for your chosen keywords on search engines.
For the upgraded version, you can set up a recipes page using the WebMan Amplifier plugin, a multilingual website using the WPMR plugin, and more.
Note: For your online shops that run on WordPress, check out these responsive WooCommerce themes to help boost your sales and improve your customer experience.
If you have a new plugin and theme or posts about both that you want featured on our monthly roundup, please send them here.
More on WordPress theme: