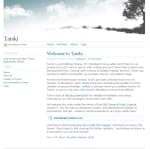 A really nice theme from ionfish which was just released is Tarski. It is a two column theme, with an interesting look.
Tarski is a WordPress theme. It's intended to be usable out of the box, by people who just want to get on with writing and don't have time to learn web development first. Coming with a choice of tasteful header artwork, Tarski has numerous options accessible via a simple, easy-to-use options page.
For the more technically-minded, Tarski provides a flexible basis for any number of alterations, from ssimple things like changing the header, to more complex structural changes. ionfish is actually running a modified version of Tarski, so as you can see, fairly drastic alterations are far from difficult.
Check out the Tarski theme page for more information.