Scott from Plaintxt.org recently was looking into the challenge I created, and was hoping to have something ready in time despite the fact that BloggingPro has never once featured any of his previous submissions to the WordPress theme community.
When I searched for myself and realized he was right, we had never once featured one of this themes, I felt horrible, as Scott has been a big player in making simple, content centric themes for WordPress.
I thought that to rectify my horrible oversight, I would feature all of his currently released themes today.
Barthelme
A light theme, easy to customize and build on, Barthelme is fluid and two column. It contains some great integrated features and options which you might like:
Theme options menu within the WordPress admin menu, featuring

control over fonts and font sizes
ability to alter layout and text alignment

Intelligent browser titles (e.g., "Barthelme « plaintxt.org")
Widgets friendly, ready to use
Hack- and error-free CSS
Standards compliant XHTML 1.0 Strict validation
You can read all about Barthelme at Plaintxt.org's Theme Page, as well as see images, thanks to a flickr gallery of what it looks like, both on the user and admin side.

blog.txt
Honestly, my favourite theme from Scott, is blog.txt. It is a two column, elastic theme that is lightly styled and very clean and professional looking.
On his site he says:
An elastic, two-column layout for WordPress 2.0+. It's styled, but light with less than 300 lines of CSS. With its (somewhat) unique theme options, you can easily make blog.txt into something resembling a CMS.
Just like Barthelme it is standards compliant XHTML 1.0 Strict with hack and error free CSS. Check it out at Plaintxt.org.
plaintxtBlog
A three column theme for WordPress that really does not have much wrong with it, partially because it is one of the leanest themes I have ever seen, especially for a three column theme.
It is not one of my favourites, but the simplicity gives itself to being easy to customize, which is a very important aspect of a theme in my opinion. It is XHTML 1.0 compliant as well.
Check it out at Plaintxt.org.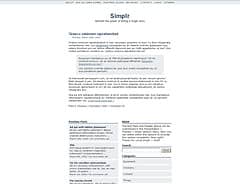 Simplr
Another of my favourite themes from Plaintxt.org is Simplr. It is mainly a one column theme, with a two column footer. It displays one story and looks good doing it. It is light on colours and graphics which means it is all about the content.
As with the rest, it is XHTML 1.0 valid, and has error and hack free CSS. Check it out at Plaintxt.org.
veryplaintxt
Last, but not least we have veryplaintxt, which is as the title states, very plain. A simple theme that again lets visitors concentrate on the content, and the simplicity makes it easier to cusomize.
Grab it from Plaintxt.org.
All of these themes show how simple, yet effective a WordPress theme can be, and how with some time and effort you can make something clean, lightweight, and effective. Check out all the themes, and keep an eye on Scott, who is working on some new ones, which will hopefully be out soon.