The Write Right series is a collection of blog posts geared towards helping writers launch their very own freelance career. The series will cover the things that every freelancer needs to possess or accomplish. Click here to view all the posts under this series.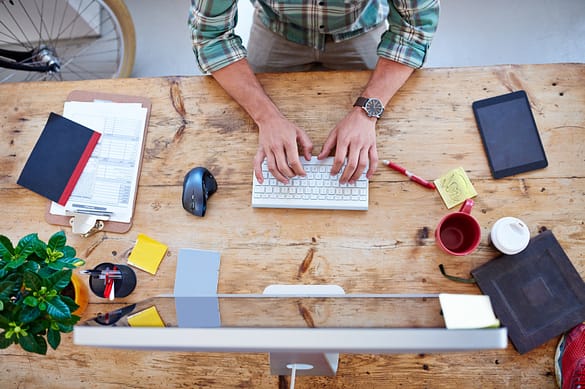 Freelancing blogging may appear like a dream job. Like most freelancing jobs, you get to stay at home and proceed at your own pace while writing on your blog. No need to travel or take the congested public transportation back and forth just to get your job done.
These are probably the main reasons why there are more than a third of the U.S. workforce are freelancers according to a Forbes article.
While jumping on the freelance bandwagon may be a fashionable decision to take, you can't deny the immediate benefits that it offers, especially if you're tired of wasting most your time stuck in traffic when you can just be working at home, allowing you to get things done faster.
Still, it is important to identify whether or not freelancing blogging is the best career move you could take at the moment. Below are factors that should help you consider for a career as a freelance blogger.
Are you aware of the disadvantages of freelancing?
Freelancing is never a perfect setup, especially if you are used to getting government benefits and company bonuses. These are just some of the many disadvantages that freelancers will have to deal with when transitioning from life in the office to their home. This is made even more glaring in a hilarious Oatmeal article that compares work in the office and at home.
If you're comfortable with the potential loss of communication or lack of benefits that goes with freelancing, then you should be able to work as a freelancer just fine.
Note: It's best to mention that there's always a chance that any of your clients will run away with the work you've done without paying a cent. This is a frustrating yet inescapable part of being a freelancer, which is why you need to observe the best practices on how to get paid by your clients.
Do you want to work for a client or set up your own blog?
There are two types of bloggers – one who has set up his own blog for the purpose of earning from it and one who searches for clients looking for blog writers.
The former  necessitates that you learn more than just writing on a blog.
As a blogger, writing and publishing articles on your blog is just one of the many responsibilities that you will have to fulfill. To maximize the profitability of your blog, you may have to learn how to set up different ads, promote yourself on social media, and network with other bloggers. These go over the regular scope of writing, but are nonetheless integral in your role as a freelance blogger.
When starting out with your blog, you may not earn as much as you'd expect since you'll be working from the ground up. However, once you have established your blog as an authority for one of your interests, you can gain lots of traffic and influence within your industry. This will take time to achieve, so it's best to complement your income with getting clients in the meantime.
On the other hand, working as a blog writer may help you earn more money from the onset. Pay will be stable as long as you subscribe to the standardized pay rates from this resource page at All Indie Writers.
However, the work you produce for their blog is not yours to take. It's no different to working at the office where all your efforts will be owned by the company.
Do you have a writing portfolio?
To increase your chances of getting hired by potential clients, you need to showcase your best works online. This portfolio containing links to your published works online will serve as your resume to employers.
If you have yet to develop a portfolio, click here to read out short guide on how you can develop one.
Final thoughts: Taking all these factors into consider, you should have a better idea on whether or not freelance blogging is something that you should take up as a career. Again, it's may not be the best way to earn a living, but if you've reconciled with the advantages and disadvantages of freelance life, then being a blogger may be the best thing you could do.
More on freelance blogging: