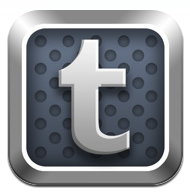 If you look at the top 3 blog service platforms, you'll notice that Tumblr is a distant third to WordPress.com and Blogger, the latter two who occupy second and first place, respectively.
However if you notice the stats between the platforms, you'll realize that while Blogger and WordPress.com are growing at a healthy clip (especially WP.com who just passed 19 million blogs), Tumblr is growing much faster than its rivals.
Boasting approximately 16.5 million blogs (up from 15 million about a month ago), Tumblr is obviously doing something right, which might explain why every major blog service except Blogger.com has copied them.
Although Tumblr's keep it simple approach might explain the site's popularity (as Joshua Strebel of Page.ly fame explains upon WP Candy), there might be several other reasons why Tumblr is growing faster than their rivals. Read More