Are you curious about how to become a technical writer?
If you have extensive knowledge in particular areas and a knack for concisely communicating complex information to readers from all walks of life, then technical writing can be a very rewarding field to get into.
But how exactly can you get started? Do you need a specific qualification? What is the content creation process like? How can you sharpen your writing skills to stand out from the crowd?
📚 This guide on how to become a technical writer will answer all of these questions and set you on the path to a successful career writing about technical topics.
---
What is technical writing?
Technical writing can seem intimidating and complicated, but it's really just specialized writing intended to help explain clearly and effectively how to use a product or complete a process.
It involves crafting instructions that are written in language that's easy to understand and follow as well as incorporating helpful images or screenshots when applicable.
Technical writers need to be proficient in the subject they're explaining, have an eye for detail, and be able to explain things step-by-step. Though it may not seem like an exciting type of writing, technical writers play a critical role in helping their readers successfully complete tasks or learn complex material quickly and easily.
---
Who is a technical writer?
In a nutshell, a great technical writer is someone who can explain complex topics in a way that is easier to understand. They need to have strong written and verbal communication skills, be well-versed in various computer hardware and software, and have the attention to detail required to ensure everything is accurate.
Additionally, they should be naturally curious, innovative thinkers who are always looking for ways to improve the user experience.
While these skills may seem challenging, remember that you can learn most skills if you're willing to put in the effort. So, if you're someone who loves learning about technology and has a passion for helping others understand it, then you could make for a great technical writer.
---
Why should you become a technical writer?
If you've got the skills we mentioned above and are looking for a rewarding and satisfying career, technical writing might be worth exploring. The job market is expected to grow by 10.9% from 2016 to 2026 [1]. Now, more than ever, there's an increasing need for people with a detailed understanding of software, hardware, and other tech-related topics.
It can also be incredibly fulfilling to help others understand complex topics through your written work. Not only do technical writers provide essential guidance by creating manuals, reports, online help systems, user guides, and other documents to explain concepts clearly, but they also get to do so with a bit of creativity through writing.
---
How much does a technical writer earn?
If you're looking to make a career move into technical writing, you'll be glad to know the pay can be quite lucrative.
According to research from salary.com, the median technical writer's salary in the US is $60,986 per year [2].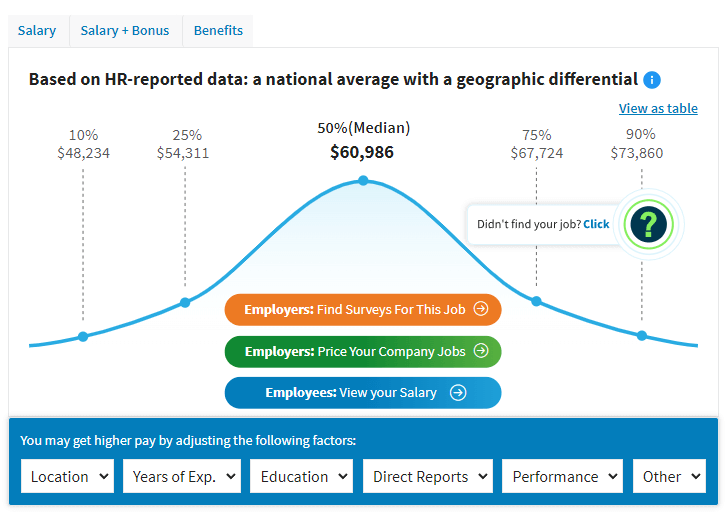 On the other hand, U.S.News' 2021 research shows that the median salary for technical writers was $78,060, with the lowest paid making $61,830 and the highest making $98,840, with some highly experienced professionals commanding up to six-figure salaries [3].
The amount you get as a technical writer will often depend on your experience, the company you're working for, and the scope of your work. In addition, metropolitan areas like San Jose, San Francisco, and Trenton, New Jersey, tend to offer higher salaries.
If you're ready to take the plunge into this challenging but rewarding profession, rest assured you'll be rewarded handsomely for your hard work.
---
Technical writer job requirements
First and foremost, technical writers need to have strong written communication skills. So, you should be able to write effectively while keeping your audience in mind, choosing appropriate language and tone for the subject matter.
Additionally, technical writers usually possess extensive knowledge of the specific subject matter that they're writing about. They may need to learn new technologies or topics to provide accurate instructions or information.
Finally, technical writers should be organized and detail-oriented, as much of their work requires precise instructions, and accuracy is key.
---
Different technical writing fields
Technical writing is an interesting and expansive field with a large range of unique options and pathways to explore.
👉 Popular choices among professionals include specializing in writing:
User guides and instruction manuals
Technical reviews, reports, and documents
Medical and scientific papers
Guides or books by technical writers (e.g., writing a book on software engineering)
Writing e-learning content related to a technical subject
With its vast range of niches, there are plenty of subdivisions within this field, from manufacturing and aerospace engineering to medical documentation and software user manuals. As a result, it can be very easy to find a niche you like and excel in it.
So far, we've discussed what a technical writer does, how much they earn, and some of the qualities that make a great writer in this field. Now, it's time to show you how to become a technical writer.
---
How to become a technical writer in 5 steps
---
Step 1: Start with education
One of the best ways to get into technical writing is to get some formal education.
Whether that means heading back to college for a new degree or earning continuing education credits for an existing degree, having a solid foundation in the field will make you stand out from other writers.
You can pursue a technical subject (e.g., engineering, sciences, etc.) or an English degree, as they both offer lessons in using information effectively and researching deeply.
---
Step 2: Get certified
If pursuing a degree isn't something feasible, consider getting certified as a technical writer.
A technical writing certification can help give yourself an edge in the job market.
Here are a few credible places that offer technical writing certificates:
---
Step 3: Build your technical writing portfolio
The next step in how to become a technical writer is to build your portfolio.
You can start by gathering samples of your work. You can use work you've completed for class, research papers, any reports or documents you've created as part of a professional job, or even creative writing pieces that demonstrate your ability to express complex ideas clearly.
If you're a beginner writer, you can also create your own Google Docs samples or take it a step further by guest posting on websites in your niche.
Once you have your samples, you can decide on a platform to display them. We recommend creating your own website on a platform like WordPress, where you can display your samples. This way you have full creative control over your portfolio.
You can also showcase your samples on professional social networking sites like LinkedIn.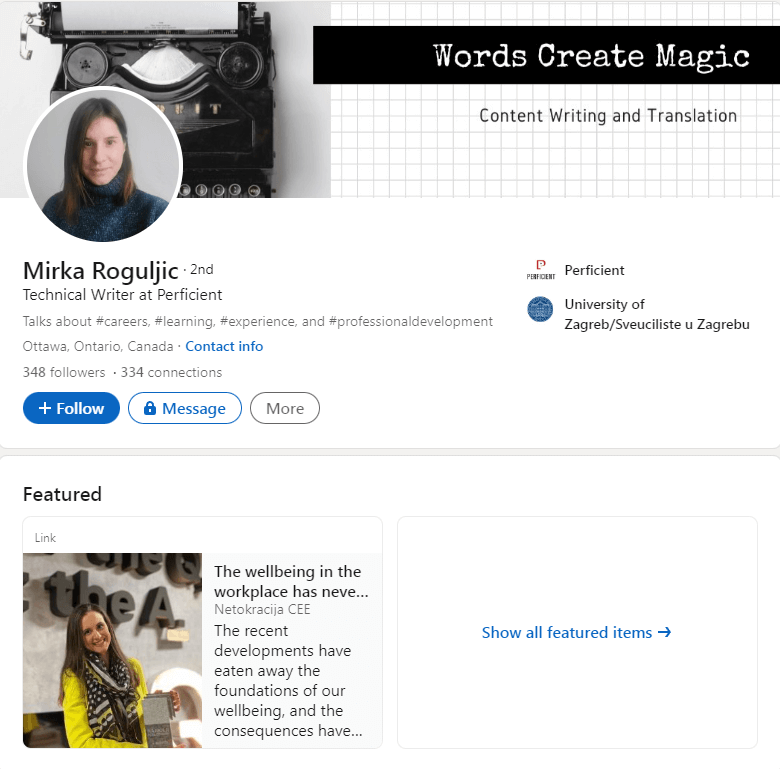 ---
Step 4: Practice your writing skills
Being a technical writer is about more than just the basics of grammar and sentence structure you need. It's also being able to easily break down complex topics into clearly written explanations and instructions that move your reader through each step.
Practice the best way to hone these essential skills.
Try to allocate time each week where you can research and write a page or two on a specific topic in your writing niche. After writing, you can compare your piece to popular articles on the same topic. Take note of how other writers in the field choose to explain certain concepts and some of the jargon used.
You can also start your own blog. This will help you start establishing yourself as an expert in your niche, and is also a great way to build a portfolio of technical articles.
---
Step 5: Apply for jobs
The final step in how to become a technical writer is to start applying for jobs.
Popular job boards such as LinkedIn and Indeed often have remote technical writing positions listed regularly, so keep an eye out on those sites for opportunities that fit your skills and experience.
You can also find freelance technical writing opportunities through job boards such as our BloggingPro job board. You can sign up for the newsletter and get opportunities sent straight to your email.
---
How to become a technical writer: The path is clear
Technical writing is a process of conveying complex information to specific audiences in an easily understandable way. If you have strong writing, research, and analytic skills, learning how to become a technical writer can open up lucrative career opportunities.
If you want to become a technical writer, start by honing your writing skills and then build up your knowledge in the field of your choice. After that, compile a portfolio of your work to showcase your skills to potential employers, and then start looking for writing jobs.
⌨️ Some technical writers find that creating a blog is a great way to hone their skills while also establishing writing samples. To learn more about writing blog posts, check out our guides to 👉 how to write a blog post that turns heads and how to get your blog noticed.