Do you want to share your parenting experiences online, build a community with other moms, and maybe even get some free stuff or make some money? This guide on how to start a mommy blog will show you how you can do all of these things.
👉 We'll explore:
So without further ado, let's get you on the road to becoming a mommy blogger!
---
How to start a mommy blog
1. Choose a mom blog niche 👦👧
Enfamil is to baby formula what a niche is to a blog. In other words, a niche is a more specific subtopic of a broader topic. You can rest assured that within the realm of mommy blogs, there is certainly no shortage of niches. To jumpstart your thinking process, you might consider the following mom blog niche ideas:
Homeschooling
Working mom
Parenting twins
Single parenting
Kids' crafts and activities
Family meal planning
Family budgeting
In most cases, you'll want to start by focusing your content on a single mom blog niche idea that you can quickly build an audience around. You can always expand into writing about other topics later on, but you don't want to spread yourself too thin when you're first beginning your mom blog journey.
---
2. Set goals for your mommy blog 💡
The other thing to keep in mind when you're learning how to start a mom blog is what your goals are going to be for this website.
Start by considering your overall goals. Do you want a place to record your experiences (i.e., a digital diary)? Do you want to build relationships with other moms? Do you want to make a little extra money, or are you hoping to turn this into a full-time business?
When you've decided your overall goals, you can create more specific mini-goals to get you there. For example, if you want to make a decent side income from your mom blog, you might set a goal to secure your first brand deal within six months. You can then reverse engineer the specific steps that other successful mom bloggers used to achieve that particular goal.
---
3. Build a website 🚧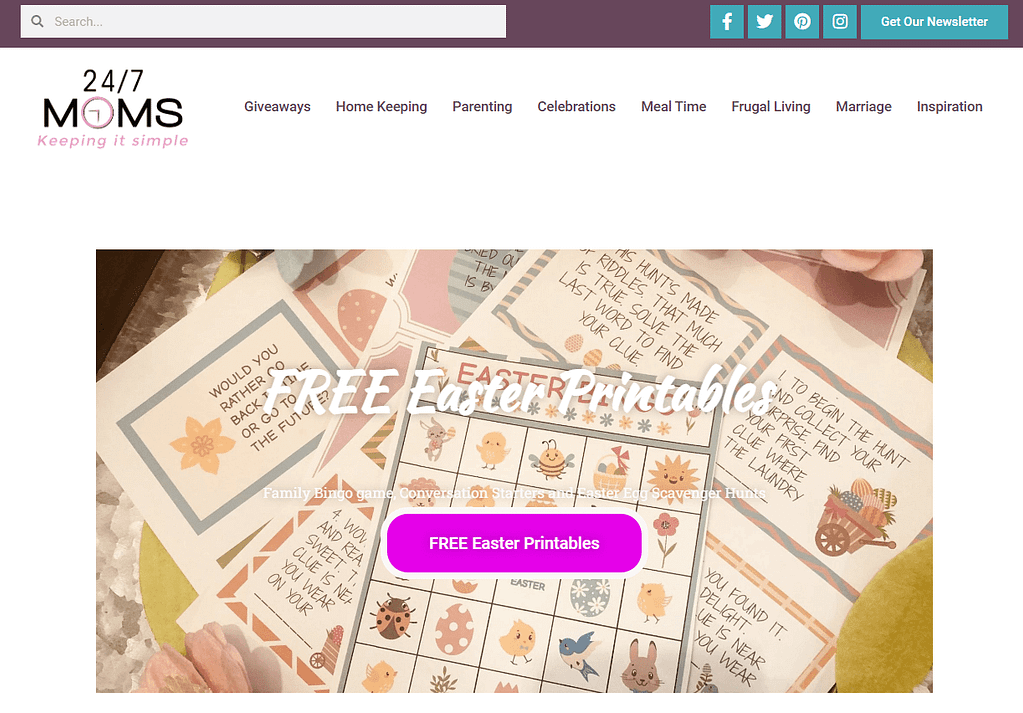 With your niche and goals decided, the next step in how to start a mommy blog is to create a website for it. There are four essential parts of this process: choosing a domain name, selecting a web host, installing a CMS, and choosing a theme.
Your domain name is the address where people can find your website. If you want to attract a large audience, your domain name should be relevant to what your blog is about. It should also be short and easy to say and spell. This makes it easier for people to remember your blog, so they can find it again and recommend it to their friends. If you need help with this step, check out our full guide to choosing a domain name.
Your web host is the company that makes your website available online. The best web hosts offer 99.9% uptime, fast loading speeds, and security protocols like SSL certification and firewalls.
The CMS is the Content Management System that allows you to write, edit, organize, and publish content. Some web hosting platforms, like Squarespace, come with built-in CMSs and website-building tools, but in other cases, you'll need to install the CMS separately. For maximum flexibility in your hosting, design, and functionality options, we recommend using Bluehost web hosting with the WordPress CMS. Bluehost also offers plans with pre-installed WordPress, so you can go straight into building your site.
The theme is a layout that you can apply to your site to determine the layout of the menus, fonts, and other design elements. There are thousands of free options, including some specifically invented for mom blogs:
You can find themes by going to Appearance > Themes in the WordPress dashboard and clicking Add New.
Bonus: add plugins
Plugins are software tools that expand the functionality of a WordPress site. Technically, you don't need plugins to run a mommy blog on WordPress, but if you want your site to run smoothly, it's highly recommended to use some basic plugins:
All of these plugins offer free versions and can be accessed by going to Plugins > Add New.
---
4. Make a content plan + create your first content ✍️
A content plan dictates what you post and when you post it. For example, your content plan might look something like this:
Tuesday – Family meal planning post
Thursday – Family shopping/budgeting tip
A content plan is good for two reasons. First, it guides your content creation process, so you know what you need to write and when you need to write it. Second, if you follow the plan, you can train your audience to visit your website on specific days to access the content they're interested in.
The key to creating a successful content plan is to make it regular enough that your audience knows when to return, without making it impossible to keep up with. This means being honest with yourself if you can only publish one post a week or even every two weeks; it's better to post less often than to fail to meet the expectations you laid out for yourself and your readers.
Another way you can ensure the success of your content plan is to create enough content before you launch that you have two to three weeks' worth of content ready to go. You'll also want to maintain this buffer as much as possible, so that when you face a true emergency and can't get to your blog, the post is still scheduled.
Core pages
Along with some blog posts, you'll want to create some core pages before your site launches. These include an attractive homepage, an about page where people can learn more about you, a review and/or affiliate disclosure policy, and a contact page where people can reach out to you.
---
5. Launch your mommy blog and grow it 📢
The final step in how to start a mommy blog is to launch your site!
There are several things you'll want to do to ensure a successful launch:
Focus on your SEO strategy and make sure every page is optimized. You can use an SEO plugin to guide this process and also check out our collection of SEO copywriting tips to help with this part of the process.
Create social media accounts on two to three major platforms and share your content regularly. You can add more accounts to this number over time, but don't take on more than you can handle; an inconsistent presence is only marginally better than no presence at all.
Ask your family for some help in creating content. For example, you might ask your partner or grandparent to help you take pictures. Depending on the age of your kids, you might even invite them to become active participants.
Network with other mommy bloggers to create a sense of community, find collaboration opportunities, and be informed of sponsorship opportunities. You can look for mommy blog groups on sites like Facebook.
You can also check out our guide on getting faster results from blogging, for actionable tips on how to grow your mom blog.
---
Final advice on how to start a mommy blog 👩
A mom blog is a great way to share your experiences, connect with other moms, and earn some money. If you follow the steps above, you'll be able to launch your mom blog in a matter of days.
Building your blog is only the first step, though. If you want to earn money from your blog, you'll want to find affiliate marketing programs and consider other monetization opportunities like sponsored posts and building ebooks or courses for parents.
Want even more in-depth guidance on how to start a mommy blog? Check out the best free blogging courses for beginners.