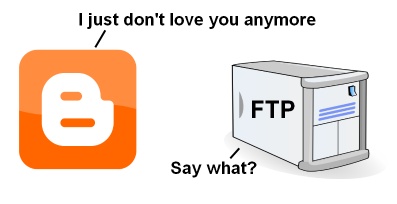 After unleashing custom domains to the world for Blogger, it looks as if the boys and girls at Google will be shutting down FTP access for the small faction who refused to host themselves upon Mountain View's servers.
(Blogger Buzz)  FTP remains a significant drain on our ability to improve Blogger: only .5% of active blogs are published via FTP – yet the percentage of our engineering resources devoted to supporting FTP vastly exceeds that. On top of this, critical infrastructure that our FTP support relies on at Google will soon become unavailable, which would require that we completely rewrite the code that handles our FTP processing. […]

For that reason, we are announcing today that we will no longer support FTP publishing in Blogger after March 26, 2010.

(Note: Emphasis is from Blogger Buzz)
Google has already created a dedicated blog to help FTP users migrate back to blogspot (or better yet underneath their own custom domain).
This news will probably upset blogspot fans blogging from hostile nations like China, where hosting a blog within ones borders can lead to an early death of not only the blog, but the author as well.
(Note: For those of you looking for alternatives of expressing your opinion without sacrificing your life, WordPress.com and Live Journal are free alternatives that (thus far) are not blocked by the Great Firewall of China (at least according to Website Pulse).
If any readers know of any other blog platforms that are not blocked, feel free to add suggestions below)
Author:
Darnell Clayton
Darnell Clayton is a geek who discovered blogging long before he heard of the word "blog" (he called them "web journals" then). When he is not tweeting, Facebooking, or blogging about space and his beloved iPhone, he enjoys running, reading and describing himself in third person.