There are two types of blogs: Those that make money and those that don't.
The blogs that are making the money have something going for them that broke bloggers don't. But what is it? That's what I'm going to teach you today.
You Need a New Plan, Stan
If you're one of the broke bloggers and you'd like to become one of the bloggers who are making serious money, then the first thing you need to do is make a new plan. Obviously, what you're doing isn't working. You need to find what does.
The best way to figure out what is working for the bloggers who are making money is to read them, dissect them, and learn from them. Then, emulate them.
How Successful Blogs Make Money
Money-making blogs have a sound business plan. They also have diversified streams of income. In other words, the publishers who own them aren't content to have just one revenue stream. They've built multiple revenue streams into their blogs and capitalize on each revenue stream.
Here are some of the ways successful bloggers are making money with their blogs:
Google AdSense
Affiliate Programmes
Sponsorships
Continuity Programmes
Amazon Associates
Let's talk about each of these money-making tactics in turn.
Google AdSense
Google AdSense is rarely a primary means of income for a blog, but it can be a great source of income. Many successful bloggers have earned thousands of dollars a month through AdSense. To make money from AdSense you have to create content that draws people in through optimization techniques but isn't so great that people want to stick around forever. You want people to click your ads, but to get them to do that you have to get them to your blog first.
For example, Gardenvisit.com makes 85% of its revenue from AdSense.
Affiliate Programmes
Affiliate marketing is one of the most popular ways of making money through a blog. Many successful bloggers build entire businesses around a few carefully selected affiliate programmes that they promote. You can do this, too. The key to making money through affiliate programmes is in choosing the right programmes and not annoying your audience.
To see an example of a blog that attracts readers with great content then monetizes that traffic with affiliate programmes, take a look at VirtualHosting.com.
Blog Sponsorships
Like affiliate programmes, you have to choose your sponsorship partners carefully, but don't expect sponsors to pay a premium price for advertising on your blog unless you have a lot of traffic. Your content can be great, well optimized, and written like a pro, but the sponsorship model is based on the newspaper model: Eyeballs, eyeballs, eyeballs. If you want premium money, you have to attract visitors.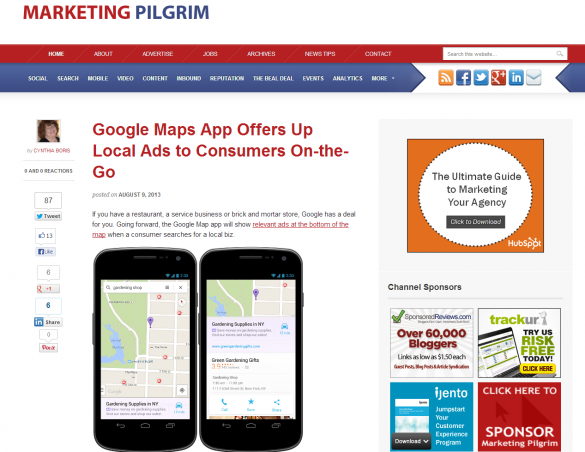 Marketing Pilgrim is a blog that makes good use of channel sponsorships. I wouldn't expect anything less from a marketing blog, would you?
Continuity Programmes
If you're old enough to remember Time-Life Libraries, then you know they made a fortune selling books, music, and videos to people on a monthly basis. They'd have a telemarketer call you at dinner time and tell you all about a product that might interest you. The first one was usually free, or offered at a discount rate. If you didn't return it, you'd get another product in a series the next month. As long as you paid for the products, you kept getting them. Time-Life Libraries is one example of a continuity programme, and you can make a ton of money if you sell a product that is high in value. The key is delivering high value and promoting the dickens out of it.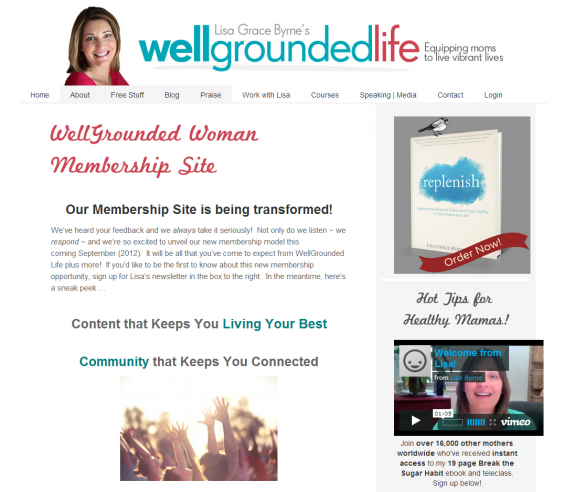 Lisa Grace Byrne has built a great membership site (one type of continuity programme) for moms at wellgroundedlife.
Amazon Associates
Amazon.com is the world's largest online department store. One of the keys to its success is its very popular Amazon Associates programme. This is Amazon's affiliate programme. It's popular because if you choose the right products to promote, then you can make a lot of money. Amazon Associates is the best affiliate programme in the world because Amazon is a trusted company.
Problogger Darren Rowse explains why he uses Amazon Associates in this blog post. You can see how he does it at Digital Photography School.
Why Some Blogs Make Money and Others Don't
The nitty-gritty on making money through the above-mentioned programmes is earning trust. You have to deliver quality content that attracts visitors and earns trust. If you don't build trust among your readers, then they won't return to your site nor will they click your affiliate links, visit your sponsors' links, or buy your products. Trust is the biggest factor for making money online in any business.
In a nutshell, making money with your blog boils down to these simple principles:
Creating a sustainable business plan
Following through with the right marketing tactics
Delivering high value that attracts lots of traffic
Building trust in your readers
Blogs that are making money are doing these four things. If you do them too, you'll make money with your blog.
Sarah loves finding new ways to make more money. She loves blogging about business and marketing in her spare times as well as walking her three dogs on the park. Connect with her on Twitter.
Lead image via Simon Halliday