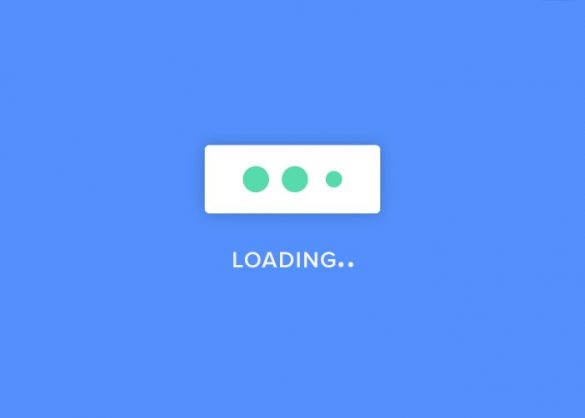 A blog heavily relies on its ability to optimize for search engines. Unlike e-commerce storefronts where a website possesses dozens (if not hundreds) of product links and posts sourced by Google, blogs only have as many links as it has posts. Due to this, every post needs to make an impact with search engine optimization.
Most bloggers, even if they have not studied SEO, understand the basics of writing for a target audience, interjecting the best keyword. However, improving load time and site speed on a blog will not only boost search engine optimization but help increase conversion rates while increasing readership.
With just a few tweaks, it's possible to dramatically increase site speed, no matter if it's in support of e-commerce product videos or a stand-alone blog.
How Load Time Affects Conversion Rate
Site speed plays a major role in everything from search engine optimization to retaining viewership and boosting read through rates. It impacts potential sales but it also plays a part in the success (or lack thereof) for blogs as well. For sites looking to build off of breakthrough advertising, it's crucial to boost load time.
According to Hubspot, 64 percent of all mobile users expect a website to load in under four seconds. Anything with a longer than four second load time results in a loss of visitors. Four-second load times see a bounce rate of around 25 percent. However, a 10-second load time results in a 58 percent bounce rate. This means nearly 60 percent of all visitors will immediately leave the website without performing a meaningful action.  The optimal load time is around two seconds, where the bounce rate drops down to 12.8 percent.
According to the same Hubspot report, an increase in a website's speed will instantly result in a boost of organic traffic by 20 percent and an increase in page views by 14 percent. It also helps improve the search engine ranking by, on average, two positions. This can be the difference between landing on the front page of search engine results or the second page. In the world of SEO, every slot improvement makes a big difference. If a blog offers a download, whether for enrolling into a mailing list or providing trial software, a 2.2-second improvement in load time increases downloads by 15.4 percent. This demonstrates the importance of improving a blog's loading time.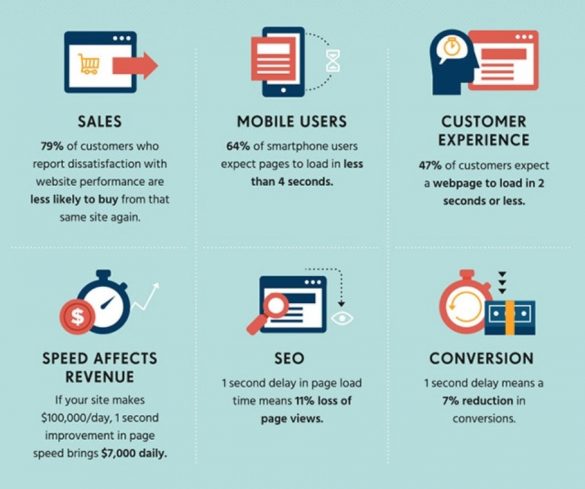 Website Performance Success
Boosting site speed and improving SEO ranking isn't just for small blogs. Major corporation sites focus on speed optimization. According to Hubspot, Edmunds.com cut seven seconds off of its load time. This led to a 17 percent boost in page views and a three percent increase in ad revenue. AutoAnything cut its load time in half and experienced a conversion rate increase by nine percent.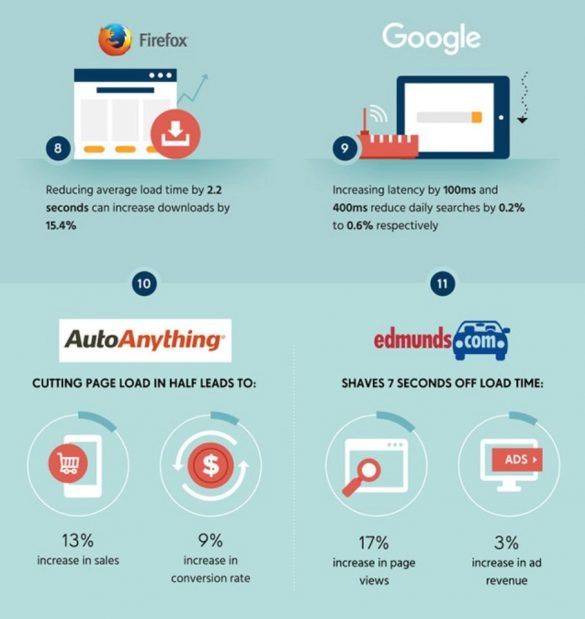 Blogs likely will not take long enough to shave seven seconds off load time. However, even smaller load time improvements make a difference. In 2015, Walmart cut four seconds from its load time, which led to a speed rank bump from 57 to 13.
Slash HTTP Requests
One of the biggest drains on a website's load time is the HTTP requests put onto it. In fact, according to Yahoo, 80 percent of load time is due to this. These requests come from website components such as scripts, style sheets, Flash animations, and images. By slashing the number of HTTP components present on a single page, a website has the ability to boost its overall load time. 
When blogging there's a fine line between providing the necessary visuals to make a post grab a viewer's attention and having too many visuals, resulting in a sluggish load time (which in turn hinders the number of visitors). There are a few different ways to go about addressing this concern, but the first revolves around removing as many of the components as possible.
For bloggers unsure of how many HTTP components are present, Google Chrome provides a Developer Tools plug-in that indicates how many components are present. Bloggers may find instead of having a dozen blogs built on top of one another, accessed by scrolling down, a simplified approach can help improve load times. One option is to have the title and summary of a post on the main page with s separate link leading to the full post.
As Pingdom reports, the majority of top e-commerce websites understand the importance of cutting down on HTTP requests. The reduction of requests allows the sites to upload larger files when necessary. Of the top 50 sites, 14 have between 50 and 100 requests while another 12 have between 100 and 150 requests. However, one has over 500 HTTP requests. The more requests a blog slashes, the faster it will run.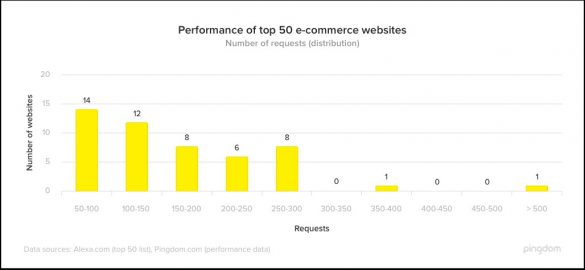 Cut External Scripts
Not all of a blog's scripts come from the native page. External scripts will begin to leach onto a page, slowing it down like miniature parachutes. These scripts come in the form of third-party integrations. A blogger may allow a script to run on the page without knowing about it. Allowing blog comment images will slow down runtime, while Twitter integration may increase the number of HTTP requests on a blog as well. Each new script may slow download time by a millisecond, but these scripts quickly add up. It won't take long before a site slows by half a second or more.
In the same Chrome Developer Tool, there is an option to view attached, third-party scripts (available by opening up the tool, selecting "Sources," then "Network"). By locating these external scripts and periodically deleting the attachments, it's possible to boost load time without making any physical changes to the blog itself.
Cut Plug-ins
Plug-ins are often small bits of code, pasted onto the website to help offer a small feature. This is anything from a Web counter at the bottom of the blog to Google Adsense and specialty links to e-commerce product videos. Some of these plug-ins are crucial to the display and monetization of a blog. Other plug-ins do nothing but drag down the load time of a website.
Over time, a blog may accumulate a large number of plug-ins. A Web browser needs to crawl and read the coding when loading a website. The more lines of code, the longer it takes to load.
There are ways to identify the number of plug-ins and how each affects blog load time. Services like Plugin Performance Profiler will summarize how each affects load time.
According to CreativeMinds, 47 percent of WordPress websites (both blogs and commercial pages) have 10 or fewer plug-ins. However, 44 percent have between 10 and 30 while four percent have over 50. For a blog to boost its load speed, it's important to fall into the 10 and under percentage.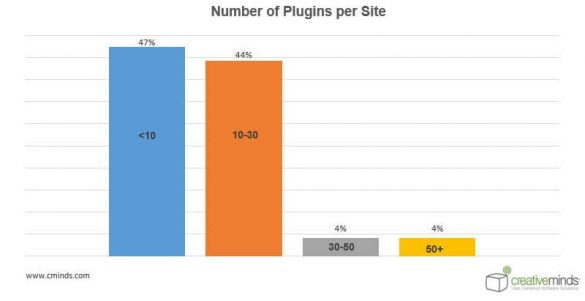 Use Third-Party Video Services
It's important for a blogger to never host their videos. Organically loading e-commerce product videos may feel right at home on a page, but these videos are large. Even a short, properly rendered and compressed video may represent more in terms of file size than all other content on the page.
Instead, a blogger needs to post content onto video services such as YouTube and from there embed a link of the video. This way, the blog will only need to stream the video from the host site, which cuts down on the need to download the video to the blog.
Optimize Image Size
Outside of having too many HTTP requests, image size remains one of the largest load time vacuums on a blog. If an image is captured on a camera or smartphone and uploaded to a page without going through any kind of optimization, the image itself will likely range from a few dozen megabytes to several hundred. Properly optimized images can shrink down to a few dozen to hundred kilobytes.
Visuals help sell products, break up a blog and prove a point. The visuals may also slow a page's load time down. Compressing the images will fix this problem. Currently, according to Radware, 45 percent of the top 100 e-Commerce sites online do not compress visuals. This provides ample opportunity for bloggers to take advantage of the bloated sites by compressing their own visuals and shrinking load time. According to the same study, of the top 100 e-Commerce sites, 38 percent took over 10 seconds to load. Some of the fastest (at under three seconds) included Amazon, Nordstrom, and Ikea.

There are a number of different options available for reducing the size of an image. For those using Adobe Photoshop, they can open the image, save it as a new .jpeg file, then reduce the "image quality." A display on the right will indicate the expected file size. The image quality won't dip noticeably, so those blogs promoting e-commerce marketing visuals won't need to worry.
For others, without Adobe Photoshop there are other options. They can easily open the image in the Mac or Windows viewer, then edit the file down to a resolution (such as 500 x 700). It's important to maintain the same image dimensions (such as reducing 10×20 to 2×4), otherwise, the image will appear stretched or smashed. 
For those using WordPress, WP Smush is an option that automatically compresses images upon uploading. Nearly all image editors a blogger might use has the ability to compress and cut down on image size.
In Conclusion
Blogs are generally simple, clean and easy to create. However, even the simplest blogs slow down over time. Whether due to HTTP requests, a growing number of plug-ins or excessively large visuals, slight alterations to the content on a blog will improve load time. Improvements to load time will not only improve search engine optimization but dive up traffic, increase ad revenue and lead to a reduction in the bounce rate. For a blogger just starting out or who have been posting content for years, these are just a few of the reasons why it's crucial to begin boosting site speed. 
Featured image source
This post was written by Mike Giannulis. He is an entrepreneur & coach specializing in business growth and digital and direct response marketing. He runs a small coaching & consulting firm (onlyonemike.com) helping businesses achieve maximum profits. In 2012, he was on a weight loss TV show called Extreme Makeover: Weight Loss Edition.