If you are like virtually all newbie bloggers you are excited to get your first few comments.
This proves that people are actually reading your blog.
Good deal.
Eventually, though, you may need to alter your blog commenting policy as the volume of spam comments riddles your blog. Overwhelm sets in unless you have effective protocols in place to either block the spam altogether or to quickly and easily fish out legitimate comments from the tidal wave of spam that plagues your blog on a daily basis.
You will need to learn the art of surrender to handle spam efficiently. Since no rule is 100% effective this means deleting legitimate comments from time to time.
[bctt tweet="How to Moderate Comments on a Busy Blog" username="blpro"]
If you can get comfortable with that idea you will save yourself hour's worth of time moderating blog comments.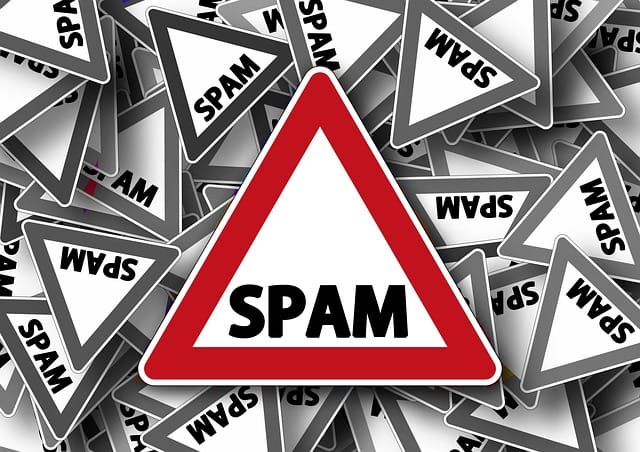 Having an effective system in place to handle spam:
saves your time and energy
helps you devote more time to creating and connecting with successful bloggers
allows you to enjoy more time offline
reduces your stress levels
encourages community engagement
Nothing looks worse than seeing a blog comment section overrun with spam. Beyond looking highly unprofessional – what blogger falls asleep at the wheel like that? – any established pro blogger who wants to publish a legitimate comment will head to the cyber hills if they come across a blog infected with a high volume of spam comments.
The dramatic approach of closing the comments section entirely is a drastic measure that hurts your community building efforts and lower engagement, so that tactic should be avoided at all costs.
If you follow a few simple steps you can moderate comments on a busy blog.
1: Use Plugins
Akismet is one of the plugins of choice when it comes to catching spam comments.
But a Google search can reveal other effective tools for preventing spam comments from appearing on your blog.
Ask fellow bloggers for spam blocker recommendations. Make your blogging life simpler. Spend less time moderating comments so you can spend more time creating helpful content and building blogging friendships.
Note; you cannot rely on plugins alone to handle all moderating. Depending on how your theme responds to certain plugins you may find a steady flow of legitimate comments land either in the spam or trash folders. Always scan every folder to fish out and approve helpful, authentic comments to build your community.
2: Look for Head Shot Avatars
If you are being overrun by spam and need to scan 5 to 10 pages of comments – or more – every day, approving only comments with avatar head shots is an easy way to purge a high volume of spam comments quickly.
Legitimate comments tend to be the creation of a legitimate blogger who has uploaded a smiling headshot for their avatar.
On the flip side of things, spammers almost never attach a smiling head shot to their comments.
Be at peace with the fact that some readers may post legit comments but neglect adding an avatar revealing a head shot. When you have hundreds or even thousands of comments to wade through it becomes virtually impossible to remove all authentic comments from spam folders. This is the price of running a well-read, high traffic blog.
Determined bloggers who want to engage with you will usually email you asking if you spotted their comment in spam. Don't worry if you delete their genuine comment; apologize but tell them you'll keep an eye out for their next comment and make sure to approve it when it flows through.
3: Go Meaty or Go Home
If you have little time to scan spam comments you need a filter in place to separate the wheat from the chaff.
Delete every comment that is not an in-depth, authentic, thoughtful comment.
Here's why: even if a short comment is technically legitimate the blogger is usually after a backlink. Such commentors add little value to your posts or blogging community. Delete the comment to save yourself precious time debating whether it's valuable or spam.
Have posture. Only publish thoughtful, genuine, valuable comments that add to the discussion. Doing so will weed out the vast majority of spam comments and save you significant time in the process.
As you transition from new blogger to seasoned veteran, you will quickly discern the genuine from the inauthentic comments. Let go of backlink grabbers to make room for heart-centered bloggers who want to be an active member of your blogging community.
"Meaty" does not always mean a 4-6 paragraph, mini guest post style, blog comment. Even a 2-paragraph offering can be substantial enough to get the comment approved. The value is in seeing some point made in the post referenced – this proves that they read the blog post – and that point being fleshed out for a few paragraphs. If the blogger uses their real name and links to a legitimate website, even better.
4: Consider Using Disqus
Consider using the Disqus commenting platform if all else fails.
The Disqus system requires users to signup up for an account. Virtually all spammers head for the hills if a sign up is required so you will dramatically cut down on spam by using this commenting system.
The downside is fewer comments but if you are being flooded by waves of spam, the upside is well worth it.
You Need to Be Picky
Being comfortable with the idea of trashing spam comments from legit bloggers feels difficult to embrace at first. You need to be incredibly picky to seamlessly moderate comments on a high traffic blog.
This is not something you are taught when you are learning how to start a blog. Most bloggers teach you to accept any comment that comes down the pike because they have little posture and believe that any comment is better than no comments. Eventually, you will need to learn how to say "no" to thin, impersonal, or flat-out gratuitous spam comments.
As the wave of spam grows you will understand that it is not your job to explain to every single blogger why their spam comment didn't make the cut. Accept the fact that some bloggers may get upset at your judgment or may have no idea that they are spamming in the first place.
Being picky attracts more authentic bloggers to your blog who want to build friendships and publish thorough, legitimate comments.
Your Turn
How do you handle spam comments on your blog?
What tips can you add to this list?