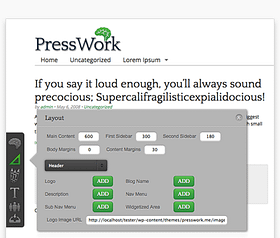 When somebody uses the tagline PressWork is not only a framework… we're setting the standards for premium themes too! on the paid WordPress themes section of their website, eyeballs are caught and we here at BloggingPro like to have a closer look at things.
PressWork is a new and free, WordPress theme framework, developed by c.bavota and Brendan Sera-Shriar A.K.A. digibomb.
PressWork, A Drag & Drop HTML5 Framework for WordPress
PressWork in its most basic form is an ultra-clean and well organized theme but the magic truly is in its features.
PressWork is the latest in an ever expanding group of theme frameworks for WordPress but comes with many unique and handy features.
Front-end Editor
Drag & Drop
HTML5 and CSS3
Google Fonts
Using PressWork: 15′ Minutes Only with PressWork
To have a closer look at PressWork I took my rarely updated Frankylicious and switched to PressWork, modifying the site with the PressWork features.
Frankylicious is an image heavy site, with only few words, built on TDHedengren's light-weight Notes Blog Core theme which I customized rather heavily. Below a screenshot of a typical on Frankylicious entry to compare what we could do in only 15′ with PressWorks.
Using Donncha's Theme tester plugin I decided to play round with PressWorks and limit my 'play time' to only 15 minutes. After that time, thanks to the front-end editor I should have a new look, ready to set a new standard.
Installing PressWork
Installing PressWork was as simple as uploading the zip file from within the WordPress Themes dashboard and activate it.
But not quite.
The team behind PressWork has made the rather annoying decision to integrate a double activation procedure, in order to activate the front-end editor which is not automatically activated upon install of the theme.
As can be expected the theme itself is activated already and PressWork has added a link to the theme admin in the Admin Bar. More annoyingly, the theme also highjacked both favicon and the site's header.
Upon activating the front-end toolbox, we are greeted with an infotorial overlay, briefly explaining the toolbox and the new link in the Admin bar, as well as being redirected to the home page, with PressWorks now active.
One of the great elements about PressWorks in its basic state is that the theme does guide the user through setting up the theme and info messages are omni-present. Especially for all widget and menu areas.
The theme itself is rather reminiscent of the look we know from many a GenesisWP or Thesis design.
PressWork also comes with out-of-the-box activated index/archive page navigation ((But I'm not entirely convinced by the look of the PageNav – and could not change it in the Toolbox either))
Starting to Work with PressWork Front-End Editor
The most compelling feature for the user not wanting to hack their way round a theme/design or create child themes is the front-end editor in PressWork. Let's see if we can try to recreate the Frankylicious design.
Once all options of the Front-end editor activated, PressWork displays inline information for every page. People who are used to look at code will quickly feel at home and recognize the setup. I had wished that more colours and indents were used though, similar to several browser extensions for developers or source code viewing. Right now it is often difficult to notice what starts where and ends where as can be seen in the following screenshot.
While working with WorkPress was easy and allowed several options, soon I was to be put off by the limited feature set of the WorkPress front-end editor and realized to that to customize I would have to dig into code.
It needs to be said that all options presented in the toolbox do exactly that and are very easy to use but the customization level is rather limited.
The first thing I wanted to do was to get a similar feel of header for Frankylicious, and unless I were to resort to uploading a header image ((Which needs to be done in the WP Dashboard under theme options -> Header)), there was no way to move blog description next to the blog title.
I was also disappointed at the limited font options. The integration of Google Fonts is a nice and great feature but I think that people might want to customize their typography more at times and also have more options to change colour of links in certain areas.
Conclusion
First of all I must say that I did not manage to copy the Frankylicious design with the WorkPress drag & drop editor but there is lots of positive to be found PressWork.
The WorkPress front-end editor and drag & drop features excel in simplicity and make creation standard website designs for WordPress easier than ever. Make creating HTML5 design easier than ever before.
There's no doubt about: PressWork will soon become popular, especially among owners of multiple sites who like to maintain designs very similar or just want HTML5 code for their site.
It would have been nice to see more options in the front-end editor, especially for the homepage and single sections of a site but generally WorkPress is a great and easy to customize framework.
Users wanting to customize their design more and also change location of for example post meta, or further customize the typography, might quickly become frustrated due to the simplicity of WorkPress' front-end editor which at the same is where its main beauty is. Opting for a theme framework comes with advanced options but one can expect to have to start digging code.
If the team behind WorkPress wants to offer advanced customization options, it would be nice to integrate a Theme customization page in the WP Theme options, allowing to make more CSS and design changes. That way the beautiful and simple Toolbox retains its touch and users have more options without having to start digging code.
Get PressWork
You can get PressWork for free at the PressWork site. The theme is also busy preparing several paid themes for WorkPress, which will be sold at $59,95 for all themes.