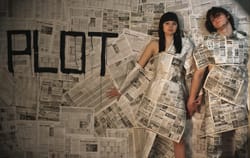 Not that long ago I declared 2010, The Year of The Return of Content but it seems that I didn't make my message clear enough and some, albeit older, diseases have continued to dominate and takeover the blogosphere.
Spread like a wildfire, an unstoppable worm on his way to burn the burg.
Of course I mean the unstoppable Buttonitis and still immensely popular over-tagging hype, AKA social media design killers.
Buttonitis
[pull]Hold thou, O earth, now, since heroes may hold not[/pull]
I like to think that I coined the term Buttonitis and if Urban Dictionary is any measure to go by, I have.
The term itself is that self-explanatory that there's no need at all to define it as 'When buttons take over the look over your site and hide the content'. We all know plenty of examples of this widespread disease and they come in different variations.
Being "It" Playing Hide and Go Seek The Content
Because we are that nice and wanted to highlight the scale of things, we faced the unthinkable and visited what is probably the prototype of modern buttonitis: The Mashable homepage. We highlighted the content for you.
After you have survived the first wave of sidebar ads on Mashable you are confronted with the screencapped area, loaded with mugshots at one side and some content at the other, well hidden amid buttons and the post image. Did I say content? Actually it's only an automatically cut off excerpt, with an often unrelated picture as post thumbnail at the other side of the excerpt content.
I am sure that it would make no difference if you would entirely replace the excerpt with two buttons only: Share on Facebook and Retweet. No one would notice.
Did You See My Buttons, No Seriously There's Some More in Case You Missed Them!
The next way to annoy your readers with buttons is by over-using buttons (often also completely filling up the fold with non-content, with social media promotion). As random example of this practice we will have a look at your average marketing blog. Not focusing on the severe case of Buttonitis, making the sidebar higher than the Petronas Twin Towers in Malaysia, let's look at the extensive use of social promotion and ads in the content area.
The great thing about having made this screenshot with the excellent Notable is that Notable's screencap engine doesn't support plugins or Flash. In this screencap, it perfectly highlights the content. Did you find it? Yes, it's a video. Hidden among ads and social promotion.
The highlighted areas 1 and 3 contain only subscription links. Combined with the ugly ad (area 2) below the header the entire fold in 1024*768 screen resolution is filled with non-content.
Below the entry, we find 3 different areas doing exactly the same: 4, 5 and 6 all are buttons to promote the entry on social networks. Social networks I am invited to follow in the header already.
Note: above zone 4 was also a 'Link Within' block with three post thumbnails and links to related content. Go check it out yourself if you're brave enough.
TIP: Go slow on those buttons, do not forget why you blog: to create content.
Over-tagging
[pull]Would I use this tag again in the future and would I actually click that tag[/pull]
Tagging is not an easy thing and there is no perfect rule to tag your entries. Several sites use tags as an element to structure the content, on blog networks tags can be used to link to network-wide content. There's no real guideline for tagging, except this one: don't overdo it!
Some examples of tagging overdone thanks to TUAW.
As a reader, would you click a tag 'overseas' on an Apple blog? Not to mention the up to three different ways of spelling names.
Sometimes tags might actually make sense but the cloud becomes too big for anyone to bother finding a tag. A perfect example of this 'tagging strategy' in Beer Planet's list of 'Hidden Features of…'.
How to Tag Correctly?
I wish I had one perfect rule for you but I don't. Personally I try to limit my tags following this guideline: Brand discussed, important people mentioned, topic and eventually also brand + major release number. But my main rules are Would I use this tag again in the future (would I actually remember using this tag!) and Would I actually click that tag?.
Keep in mind that tagging a long-term strategy is and should improve the navigation on your site. There's no reason to include typos among your tags to get the occasional search hit, use tags for your readers. Not for search engines. Tags are content aides.
Conclusion
Readers come to your blog for the content. We generally have no problems with ads, ads are not evil but don't let ads kill your site. Just like with ads, there's a space and use for buttons and tags but implement them smartly and correctly. Some things work on certain sites and don't work on other sites. It would make no sense to add a Mixx button here on BloggingPro and even a Facebook widget would be pushing things. Know your niche and deliver content for that niche. Traffic will follow.