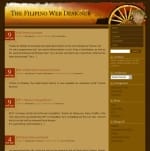 He highlights Dapit Hapon as a truly Filipino theme in that it is classy and romantic, and I must admit, the two column theme in its dark colors and nice header and footer graphics looks really good.
In the Readme.txt file that comes with the theme:
And just in case you're wondering… "Dapit Hapon" is actually the Filipino term for "sunset." So yeah, this theme was inspired by none other than the beautiful Philippine sunset. You should see our Manila Bay at this time, such a breath-taking scene.
Check out Dapit Hapon at The Filipino Web Designer.